Certain shapes seem to be classics in jewelry design. For instance, think about all the times you've seen star-shaped earrings or evil eye bracelets!
You might not see hand-shaped pendants too terribly often, but the ancient hamsa hand is a perennial choice with a lot of meaning to it.
What is hamsa?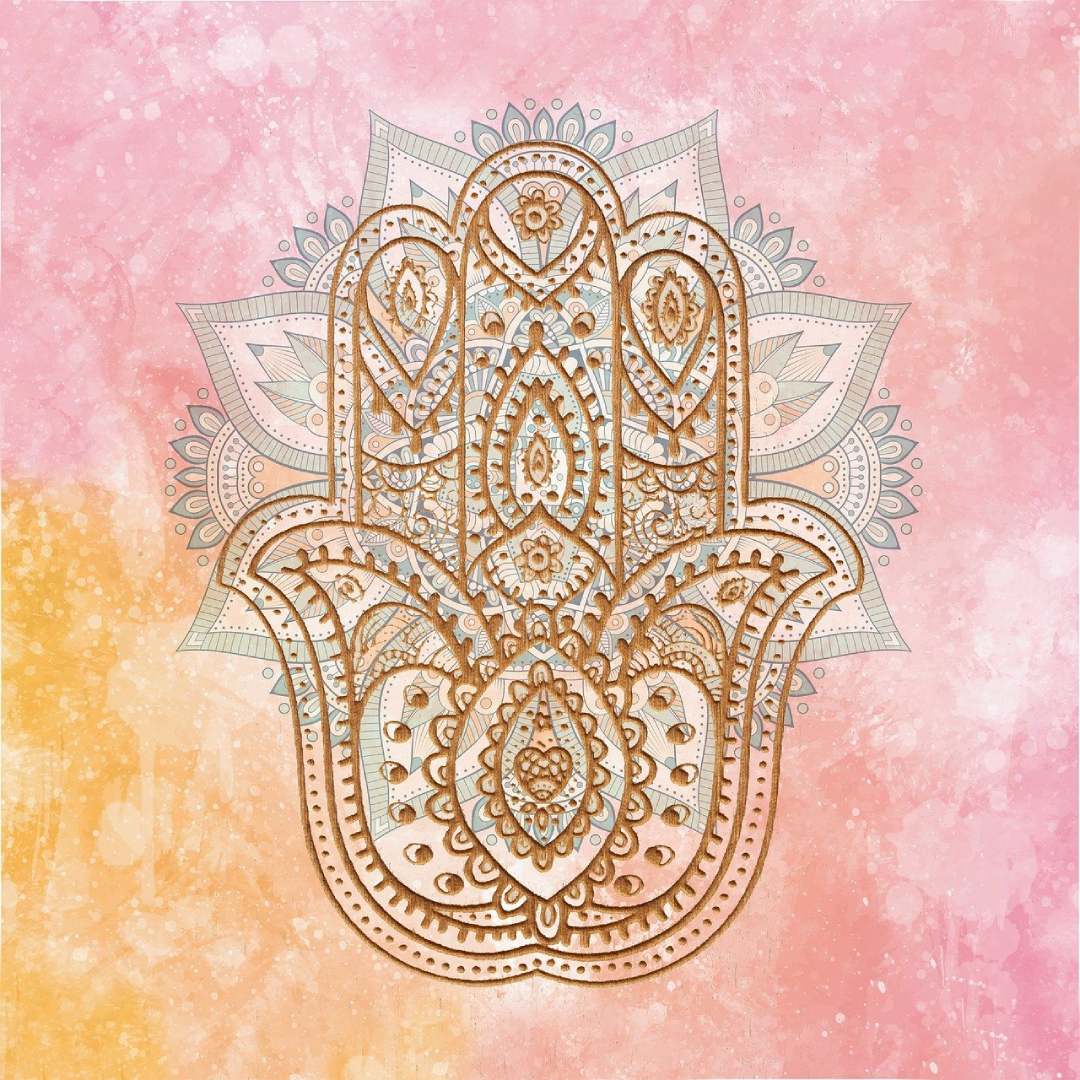 The hamsa/ khamsah hand is also called as the Hand of Fatima after the daughter of Muhammad, the Hand of Mary, the Hand of Miriam, and the Hand of the Goddess in different religions.
The hamsa hand seen in jewelry isn't just any hand. It's somewhat stylized, with three symmetrical fingers that appear to be fused together. On each side, there is a shorter finger that curves away from the hand. One of these stands for a thumb and the other stands for a pinky.
Hamsa origin
Where did the hamsa originate? As we'll see in a bit, this talisman is connected to many of the world's major religions. But in archaeological digs, researchers have found that the hamsa actually was around before many of these religions even existed!
Image source: Rome art lover.
For example, in Spain, there is a 14th-century fortress called the Alhambra. This fortress has a gate called the Gate of Judgment that prominently features a hamsa hand.
The name of this talisman comes from "hamesh," the Hebrew word for five. That's possibly a reference to the hand's five fingers. The hamsa hand is believed to be a powerful protector against evil, and it also is meant to bless the wearer with good fortune.
Hamsa evil eye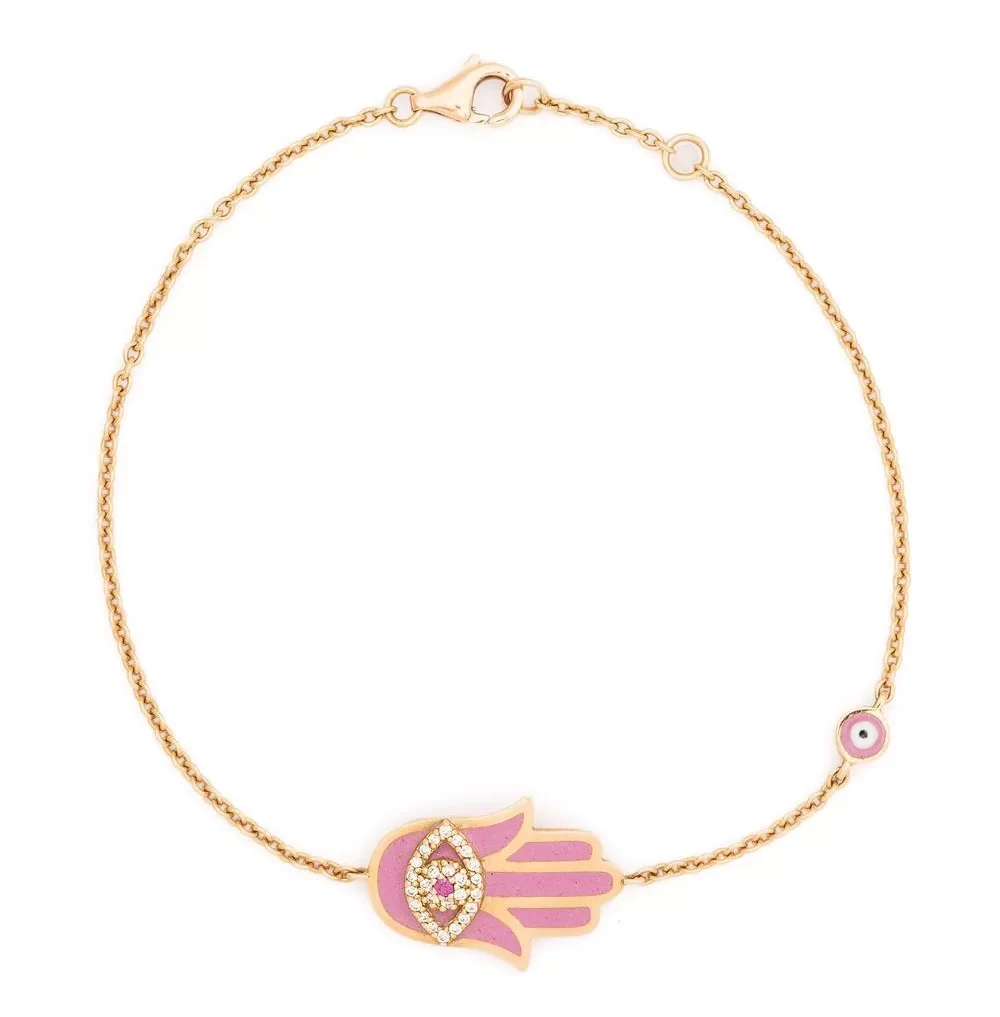 Monan 18kt yellow gold Hamsa Hand diamond and enamel bracelet $1565, SHOP NOW.
If you have an interest in jewelry that protects you from negative energy, you might already be aware of the evil eye talisman. The evil eye is an eye-shaped piece of jewelry designed to reflect misfortune-bringing "evil-eye" curses away from the wearer.
The idea of the evil eye curse can be found in many ancient cultures. It holds that one can even accidentally curse another by looking at them, so the evil eye charm was created to shield everyone from being cursed.
As you've probably gathered, the hamsa hand is intended as a general protection from evil, and it doesn't target specific curses. But sometimes, you may see a hamsa hand with an evil eye at its center.
These hamsa hands are specially designed to shield you from the evil eye curse. Usually, these hamsa hands are shown right-side-up, as that's thought to be the most effective way to ward off evil.
Hamsa meaning
Gorjana Hamsa Pendant $30, SHOP NOW.
What does the hamsa hand mean? At its core, the meaning of the hamsa hand is twofold: it symbolizes the repelling of evil as well as the welcoming of peace, friendship, and good fortune.
But like many talismans and other symbols, the hamsa's meaning is quite nuanced.
The hamsa hand also has deep connections to a number of religions (we'll go into more detail on that in a minute). But it also incorporates symbolism that isn't necessarily religious.
Much of the hamsa's meaning is tied to the number five. Of course, part of that is tied to the five fingers. But part is also tied to the five senses and the importance of connection with them.
Up or down?
As is the case with many other talismans, the meaning of the hamsa hand changes slightly depending on the direction in which you wear it. A hamsa hand facing upward is generally regarded as being a sign against evil.
But the upward-facing hamsa hand isn't just meant to protect against outside evil. Many people believe it protects against inner thoughts of jealousy or insecurity. Essentially, an upward-facing hamsa is a great way to shield yourself from both external and internal negative energy!
In jewelry, and especially with pendants, you're more likely to see a hamsa hand facing down. This gentle downward hand is meant to usher in kindness, grace, and goodness. Some people believe that the hand's fused-together fingers symbolize luck, too.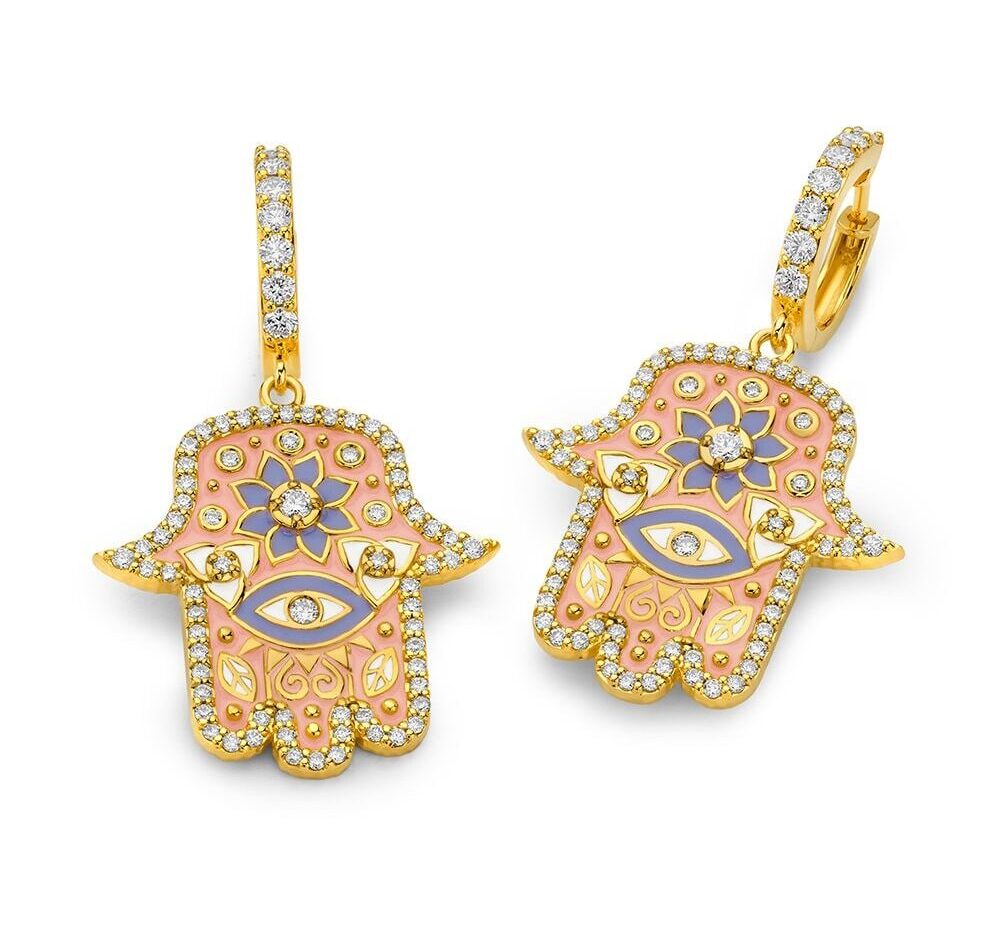 BUDDHA MAMA 20kt yellow gold diamond Hamsa huggie earrings $7035, SHOP NOW.
The hamsa hand meaning in different religions
What religion is the hamsa hand? The hamsa hand is somewhat unique in that it's a very multicultural symbol, and it has historically been used in different religions. In each one, it is symbolic of a female religious entity who offers protection.
Here's the symbolism behind the hamsa hand according to each religion:
Christianity – What does the hamsa hand mean in christianity? In the Christian tradition, you may hear the hamsa hand described as the Hand of Mary. Mary is the mother of Jesus, but she is also an important Christian figure in her own right.
Islam – In Islam, the hamsa is known as the Hand of Fatima, after a daughter of Mohammed. It also is symbolic of the Five Pillars of Islam.
Judaism – In Jewish tradition, this amulet is sometimes called the Hand of Miriam, after a sister of Moses. It is also sometimes referred to as the Hand of God. The amulet also symbolizes the five books of the Torah.
Of course, you don't need to be religious to wear a hamsa hand! It has a home in many different religions, and it's also been incorporated into New Age spirituality.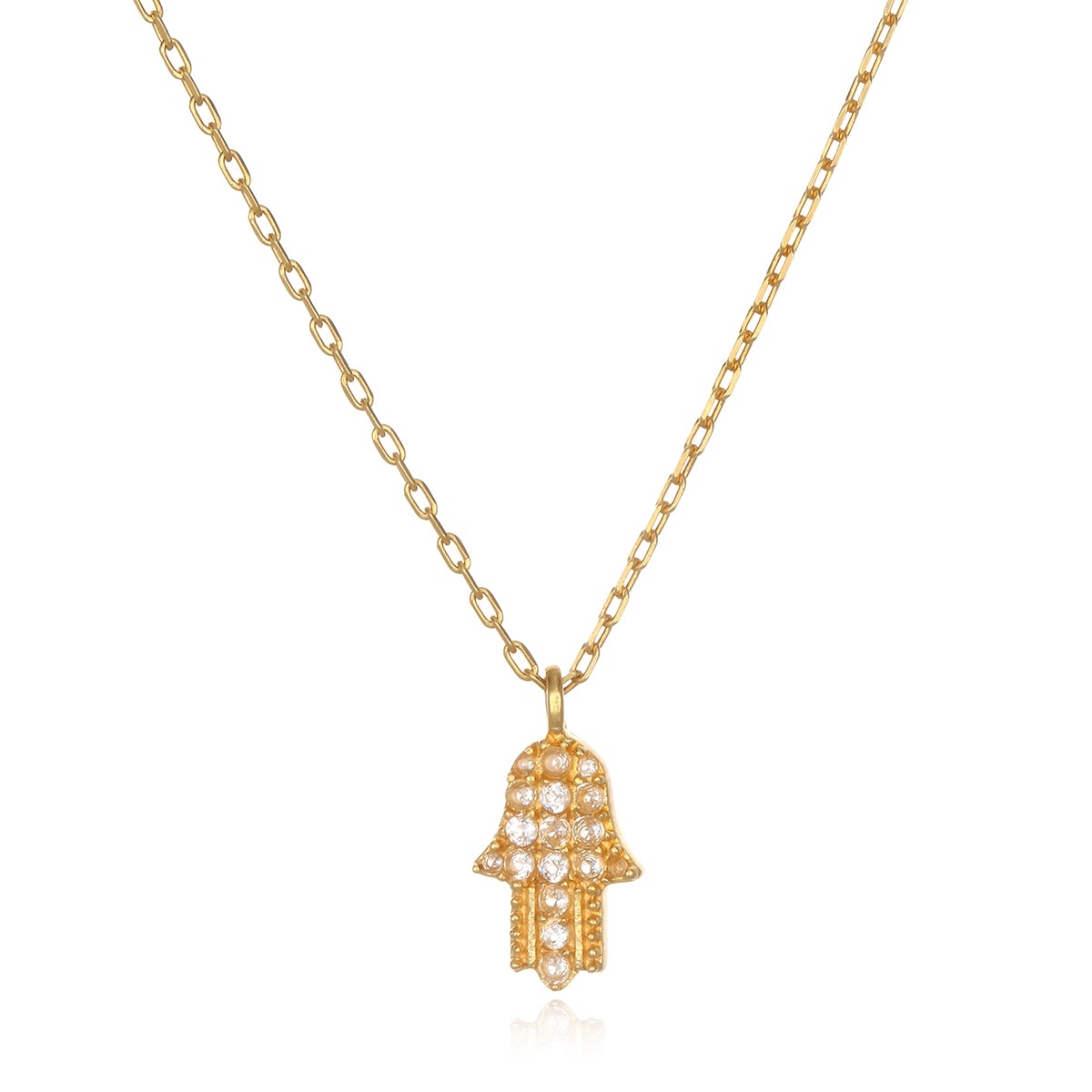 Satya Jewelry Spirit Guardian White Topaz Pave Hamsa Necklace $79, SHOP NOW.
Hamsa jewelry popularity & celebrity
Despite the fact that it originated thousands of years ago, the hamsa hand is still a relevant part of culture worldwide.
The hamsa hand is worn widely in Jewish and Muslim countries throughout the world. But thanks to its adoption by New Age spirituality, this amulet has become increasingly popular outside of religious contexts as well.
The hamsa hand seems to be perpetually popular with celebrities as well. Madonna was one of the first celebrities seen wearing a hamsa, but Heidi Klum, Rihanna, Jennifer Aniston, and several other high-profile celebrities wear them too!
Should you wear hamsa jewelry?
Whether you believe in its protective powers or not, the hamsa hand makes a great addition to your jewelry box. Hamsa hands symbolize and honor the connections between cultures and religions. They also represent a message that is very powerful — a desire to stand against evil.
Hamsa hands are also symbolic of hope for peace and good fortune. In that sense, they can be inspirational and motivational, too. But the spirit of the hamsa doesn't end with jewelry; you might find that you want to bless your home with a hamsa wall hanging!
Astley Clarke hamsa biography bracelet $192, SHOP NOW.
How to wear hamsa jewelry?
If you've already begun searching for any hamsa jewelry, you may have already found that there's no shortage of jewelry pieces featuring this important symbol. You can find it incorporated into earrings, pendants, bracelets, and even clothing and wall hangings!
Which hand to wear hamsa bracelet?
But how do you go about wearing a hamsa bracelet? Traditional wisdom holds that it's best to wear it on your left hand, as this is the hand closest to the heart. However, some left-handed people prefer wearing it on the right hand!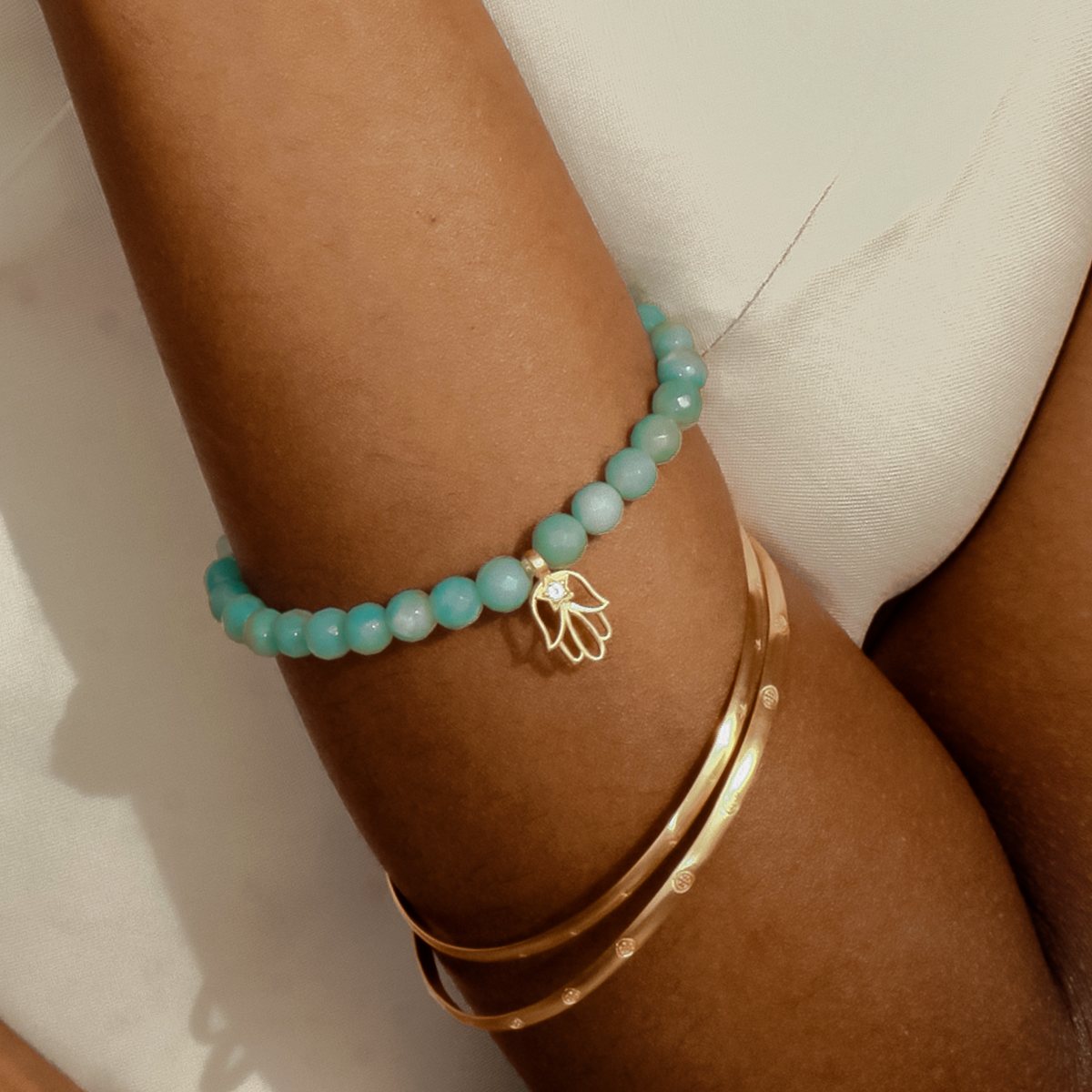 Sayta Jewelry Journey in Confidence Hamsa Amazonite Gemstone Bracelet $59, SHOP NOW.
Final thoughts
Hopefully you now have a better understanding of the hamsa hand, an ancient talisman that is really making a comeback in modern jewelry. Buy one to protect yourself, or gift a hamsa amulet to someone you want to bless with peace and joy!
Read More
Evil eye jewelry: Everything you need to know
Minimalist jewelry: 12 hand picked pieces all affordable and delicate