Snake ring meaning, popularity and our recommended pieces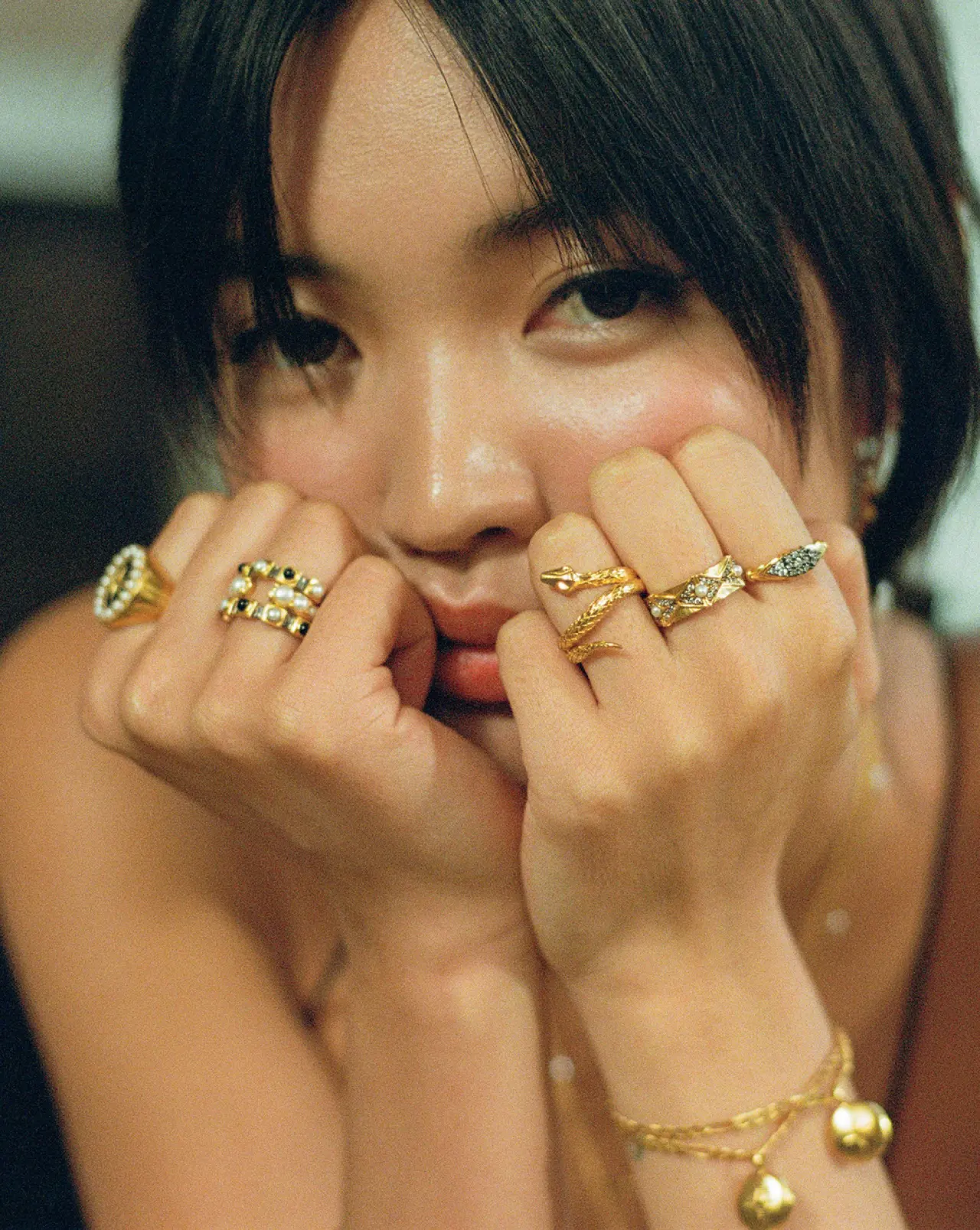 The snake has been used frequently in jewelry since ancient times. Snake jewelry, especially snake rings, is elegant and mysterious and has always been a beloved jewelry element.
Snake ring meaning
what does a snake ring symbolize? The snake has been frequently used in jewelry since ancient times. Today the snake ring symbolizes growth and reborn after a difficult situation.
In ancient times, snake jewelry signified the owner's desire for eternal youth and mortality, just as the snake, which continuously undergoes painful shedding but manages to survive and live a new life.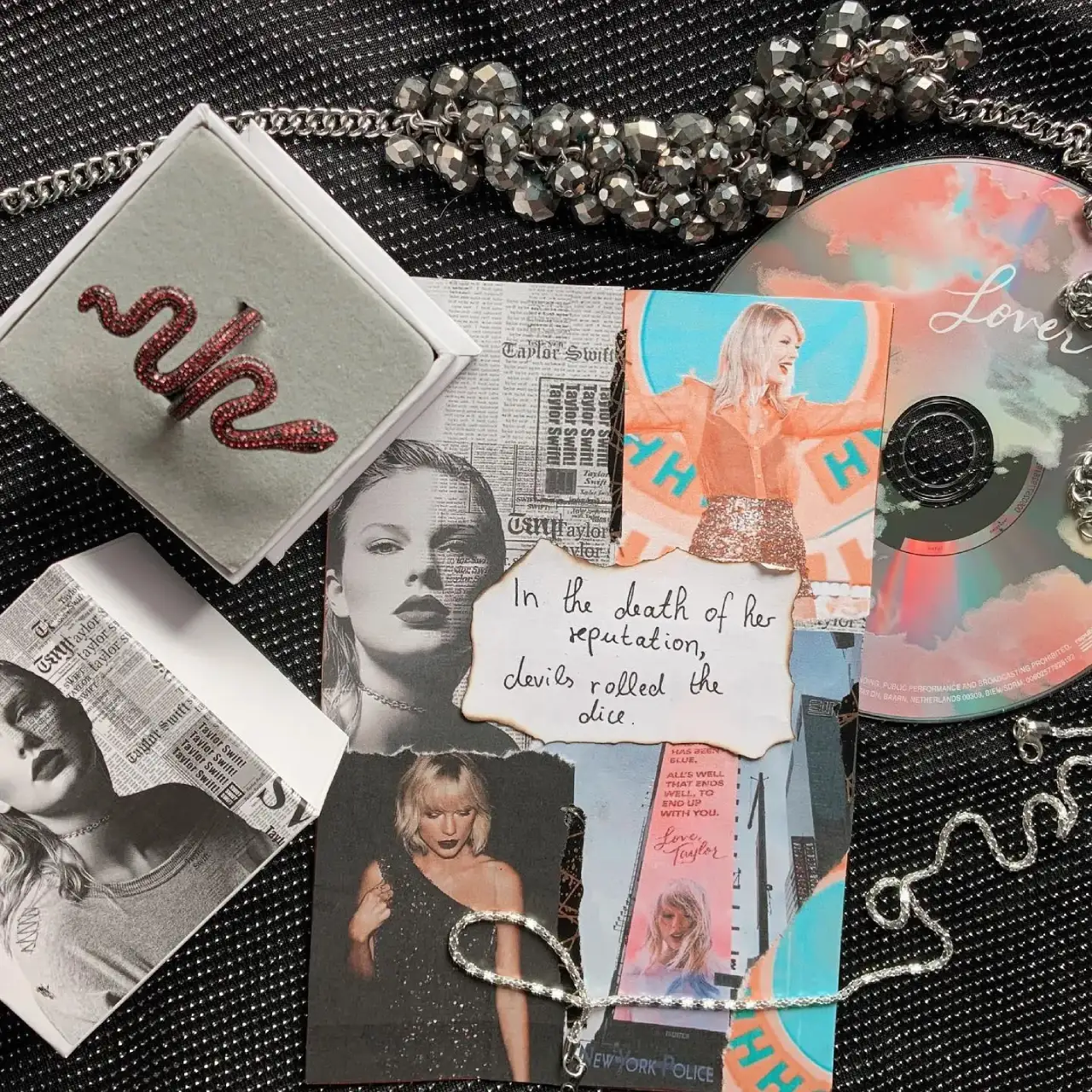 Taylor Swift's snake rings in her merch store, priced at $60. It was covered with diamonds, shining and wild.
History of snake jewelry
Between the 1820s and the 1950s, European culture was greatly influenced by Eastern culture. Indian culture, in particular, had significant influence in the jewelry industry.
The snake plays an important role in the Indian culture. It primarily represents rebirth, death and mortality, due to its casting of its skin and being symbolically "reborn".
Over a large part of India there are carved representations of cobras or nagas or stones as substitutes. To these human food and flowers are offered and lights are burned before the shrines.
Artisans then put the shape of a snake with its mouth biting its tail into jewelry, symbolizing infinity.
In ancient Egypt, the snake represented wisdom and kingship. A lot of Pharaohs' crowns were adorned with a cobra, with its head up in a ready to attack position. On Pharaohs' scepters, we can always see a coiled snake.
The snake symbolizes the wisdom of Solomon, and the cobra was the protector of the ancient Egyptian monarchs. It is the emblem of supreme power.
Our recommended snake rings (price from low to high)

Rosery Poetry silver snake ring $29.9, SHOP NOW.
This adjustable snake ring is made of 925 sterling silver, platinum or gold plated based on the metal color you choose.
It looks like a snake wrapped around your finger, and the green eyes made of cubic zirconia (they are not painted!) make it even more mysterious.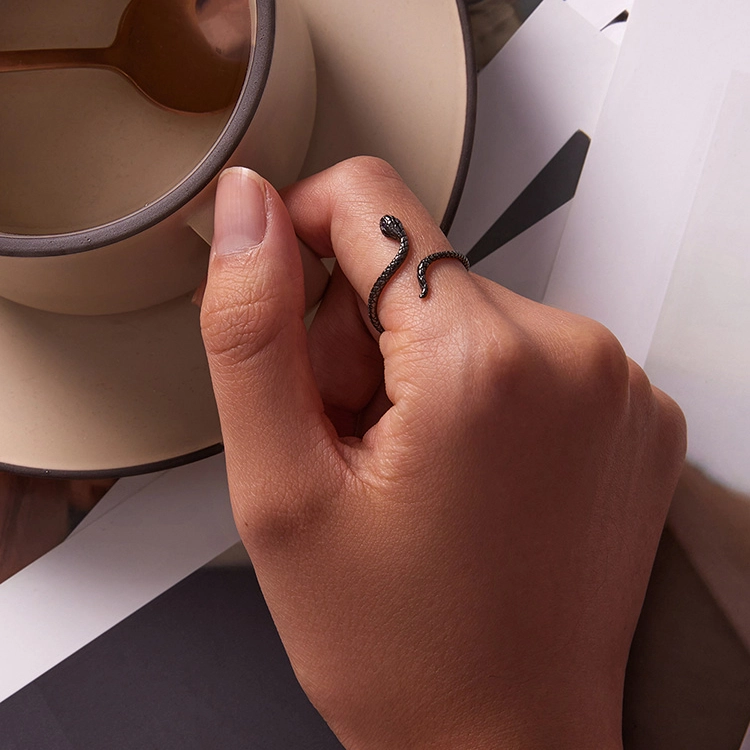 Rosery Poetry black snake ring $29.9, SHOP NOW.
Kendra Scott Snake Ring in Vintage Gold $58, SHOP NOW.
This snake ring is inspired by Victorian jewelry, it brings heritage detail to modern sculptural metal.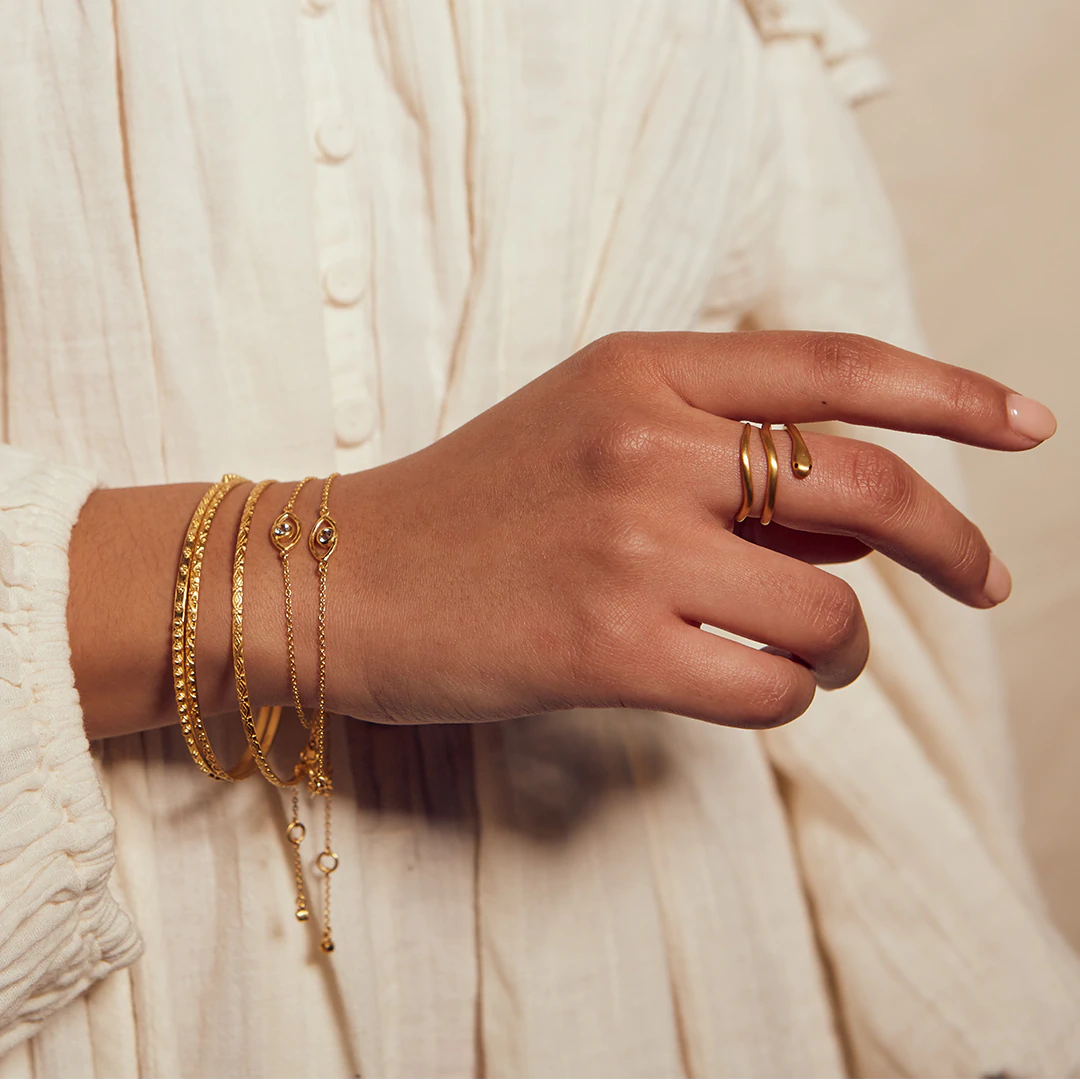 Satya Jewelry Gold Snake Ring $69, SHOP NOW.
Wrap your finger in one of nature's most elegant creatures. This adjustable snake ring is made of 18K gold plated brass and spinel stones. Featuring black eyes, the ring has just the right amount of sparkle.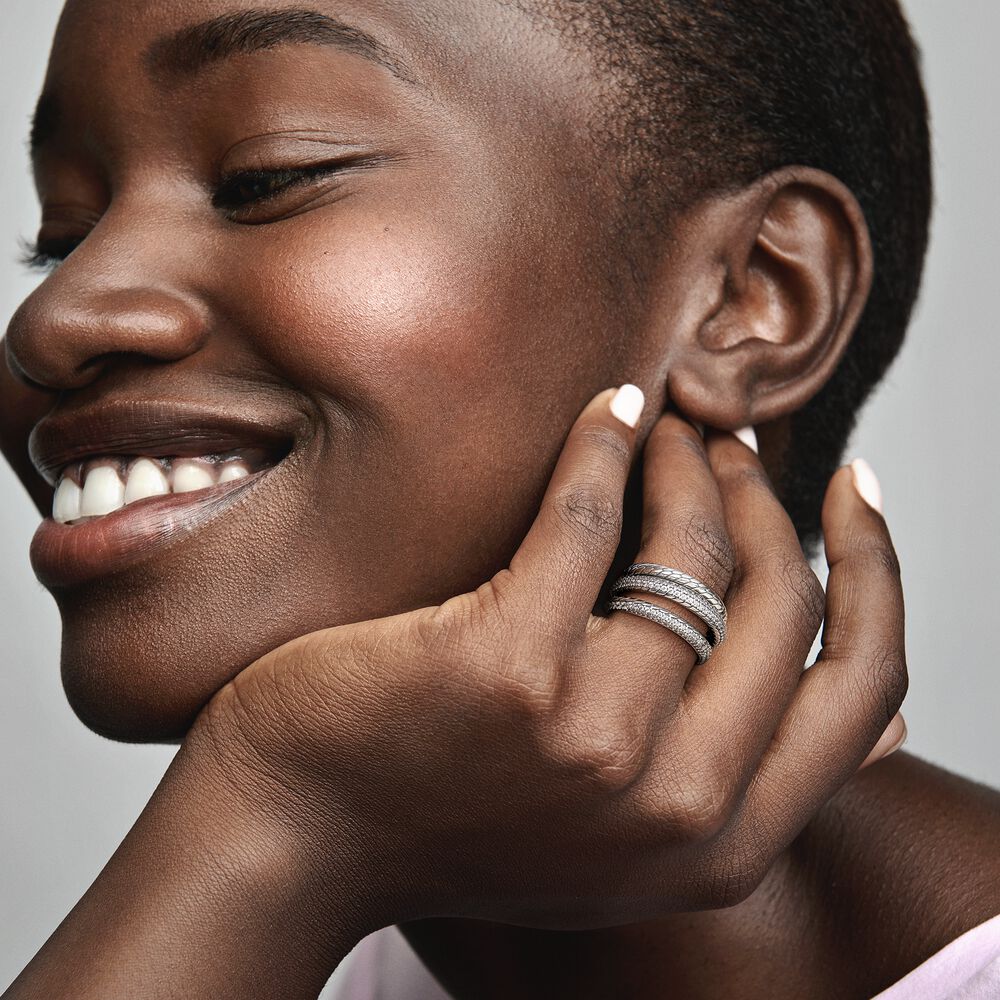 Pandora Snake Ring Triple Band Pavé £90, SHOP NOW.
This three-band ring is hand-finished in sterling silver and includes clear cubic zirconia. Get set to sparkle with this detailed piece.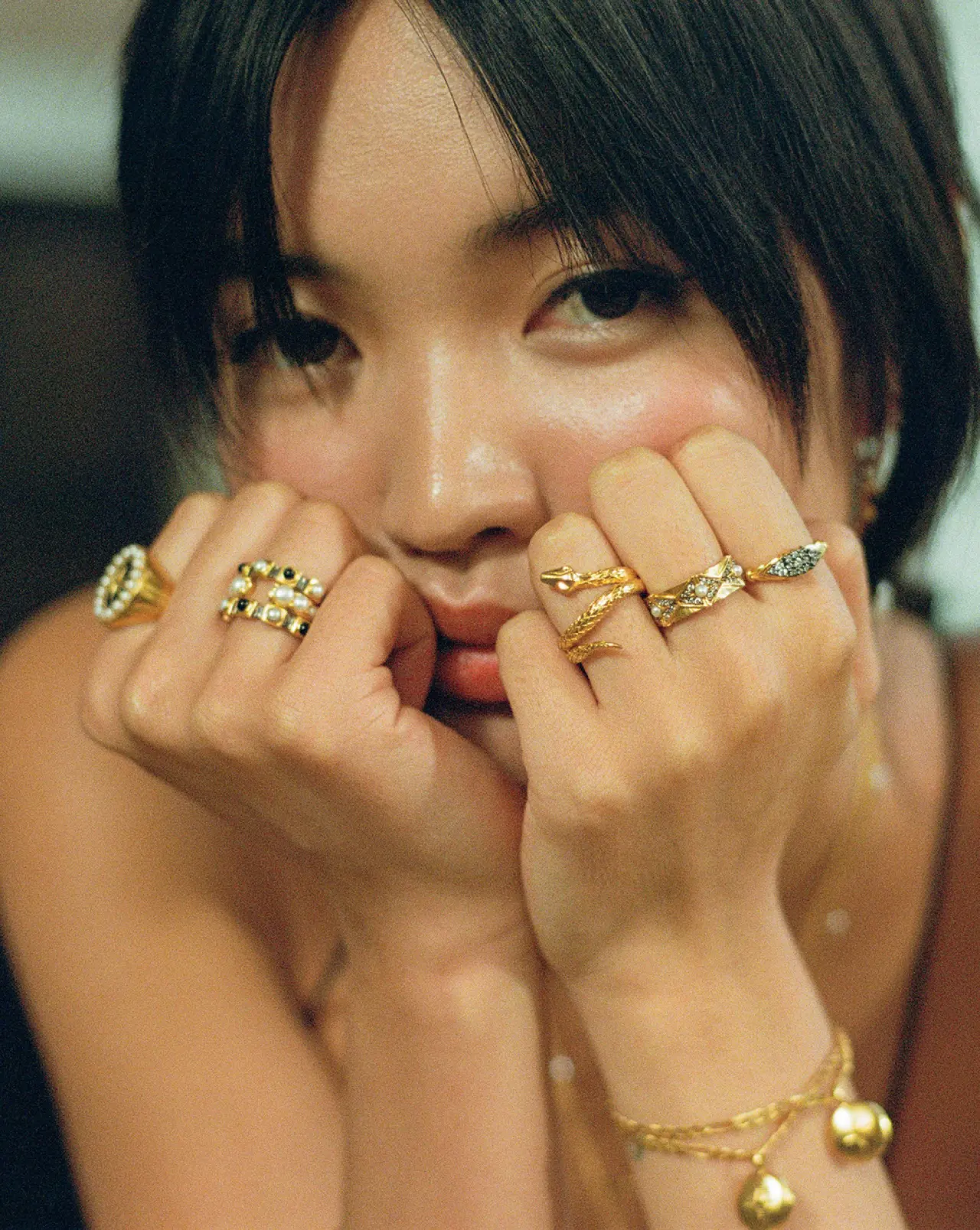 MISSOMA Harris Reed Coiled Serpent Ring $136, SHOP NOW.
This intricate serpent ring wraps around the finger. Wear or with other statement rings for a more opulent look.
Gucci Garden engraved sterling silver snake ring $290, SHOP NOW.
Crafted from 925 sterling silver with an aged finish, this snake ring features engravings recreating the reptile's scales.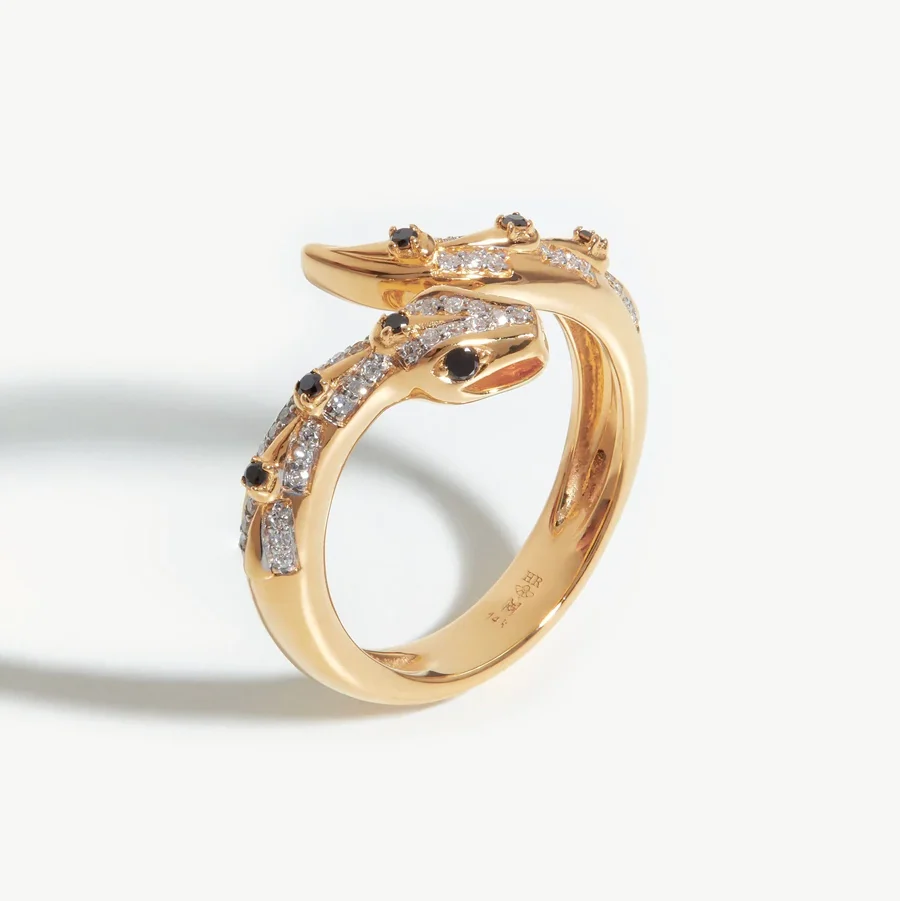 MISSOMA Harris Reed Diamond Snake Ring $2519, SHOP NOW.
This opulent serpent ring is inspired by symbols of the old world. It is handcrafted with 14ct recycled fine solid gold to help us reduce environmental impacts; the scale detailing is embellished with white diamond pavé and inset black diamonds.
Read More
Evil eye jewelry: Everything you need to know
Hamsa hand meaning: what is hamsa?
What is an anxiety ring? Where can I get an anxiety ring?