After emerald and aquamarine, which are of the same beryl family, had become popular, morganite, the pink beryl, finally caught everyone's eye with its dreamy, soft pink color and became a hot topic in the gem world.
What is morganite?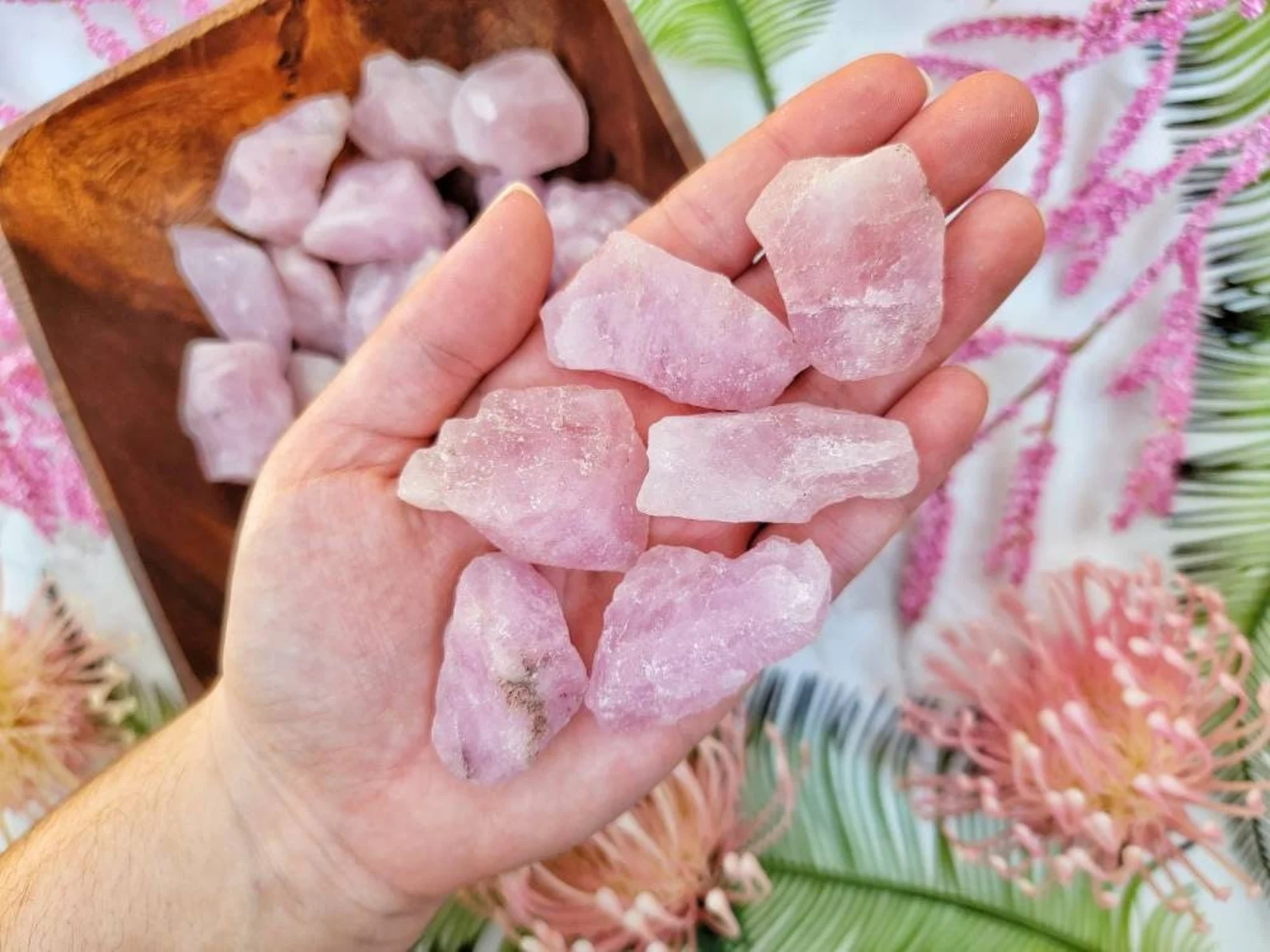 Raw morganite stones $15.6, SHOP NOW.
Morganite, also known as pink beryl, is famous for its exceptionally romantic and delicate pink color. It is currently a very popular and quite expensive emerging gemstone.
Because of its late discovery, morganite does not have an ancient and mysterious history, but this does not prevent it from gaining popularity on its own merits.
Its soft pink color and its large, transparent crystals, with few inclusions and cracks, make it an ideal material for cutting.
And this elegant and romantic pink color is considered to be a symbol of "divine love", representing passion, healing and commitment.
A short history
In 1910, the famous mineralogist George F. Kunz, chief gemmologist of Tiffany & Co. and the discoverer of kunzite, discovered an extremely chic pink gemstone in Madagascar. In gratitude to his friend and loyal customer, Mr. John P. Morgan, Kunz named the stone Morganite.
In addition to being the founder of the "Morgan" consortium, known as "Morgan Stanley" and "JP Morgan Chase", John P. Morgan is also a famous gemstone collector and a devoted customer of Tiffany. And this connection has allowed Morgan's name to be passed down along with this romantic stone.
Discovered by man only 100 years ago, morganite exudes a sweet, soft glow, a relatively feminine color, and a gentle, voluptuous charm.
A romantic stone sponsored by Tiffany
Tiffany & Co. is the discoverer of morganite. This jewelry brand has always had an eye for gemstones and has contributed greatly to the popularity of kunzite, tanzanite and tsavorite that are now very popular in the jewelry market.
In 2012, Tiffany spent months designing and creating a luxurious necklace using a 175.72-carat morganite stone to commemorate its 175th anniversary. Set with a 2-carat diamond in the center of the bow, the peachy-pink morganite is placed under the ribbon made of diamonds.
Nowadays, more and more famous jewelry brands such as Cartier, Harry Winston, CHAUMET, Boucheron, are also starting to use morganite as a main element for their jewelry pieces.
As morganite stones are often found in large crystals with high clarity, and are more versatile in terms of color matching with other stones, it is believed that this beautiful gemstone will gain more popularity in the future.
Morganite properties
Morganite, or pink beryl, along with emerald and aquamarine stone belongs to the beryl family, but it is not as well known as the latter two. The color of morganite is mainly an unusually delicate, bright pink, due to its manganese content.
Beryl is hexagonal in shape and very colorful. Pink beryl is called morganite, emerald green or intense green beryl is called emerald, sky blue to sea blue beryl is called aquamarine, other colors of beryl is collectively known as green beryl.
Morganite crystals are usually highly transparent, with few inclusions. It is colored by manganese, which is often substituted by small amounts of rare metals like cesium and rubidium, giving it a high density and refractive index. Its density can reach 2.80-2.90g/cm3, and birefringence is 0.008-0.009.
Morganite is clearly dichromatic, meaning it can appear to be light pink or deeper pink depending on the angle the stone is viewed at.
In addition, it looks purplish-red under ultraviolet light; under X-ray, it fluoresces strongly and is dark red.
Loren Stewart Kandi morganite hoop earrings $509, SHOP NOW.
What color is morganite?
The most popular, scarce and expensive morganite color on the market today is an intense purple-tinged pink. However, it does have other colors, such as orange, light fuchsia, rose, and peach.
It is colored by manganese, which is often substituted by small amounts of rare metals like cesium and rubidium.
Where is it mined?
Currently on the market, most morganite stones come from Brazil (Minas Gerais). In addition to Madagascar, where it was first discovered, it is also produced in Russia, the United States (California and Maine), Mozambique, Afghanistan, Burma, Namibia and Pakistan, as well as China.
Morganite price
It is reported that the current price of morganite in the market is $50 to $500 per carat. The value of a piece of morganite jewelry is around $200.
The most popular, scarce and expensive morganite on the market today is the intense pink morganite with a purple tinge.
Also, since morganite stones tend to have high clarity and larger carats, it is recommended to stick with the best color, the largest size, and an excellent cut.
Gorjana 14K gold morganite necklace $195, SHOP NOW.
Morganite meaning
What are the morganite healing properties? What does morganite do?
Morganite has a soft and attractive glow that not only attracts the attention of those around us, but also enhances relationships and increases our attractiveness. Wearing morganite jewelry is very beneficial to improve our social relationships.
In addition, pink is the color of love. Therefore, wearing morganite jewelry can also help us to find and maintain a love connection.
Morganite corresponds to the heart chakra and is said to be able to strengthen the heart and lungs and relieve tension. In today's society, a lot of us are stressed out due to higher work–family burden, and morganite is very good at helping us to relieve anxiety and regain inner peace.
5 hand picked morganite rings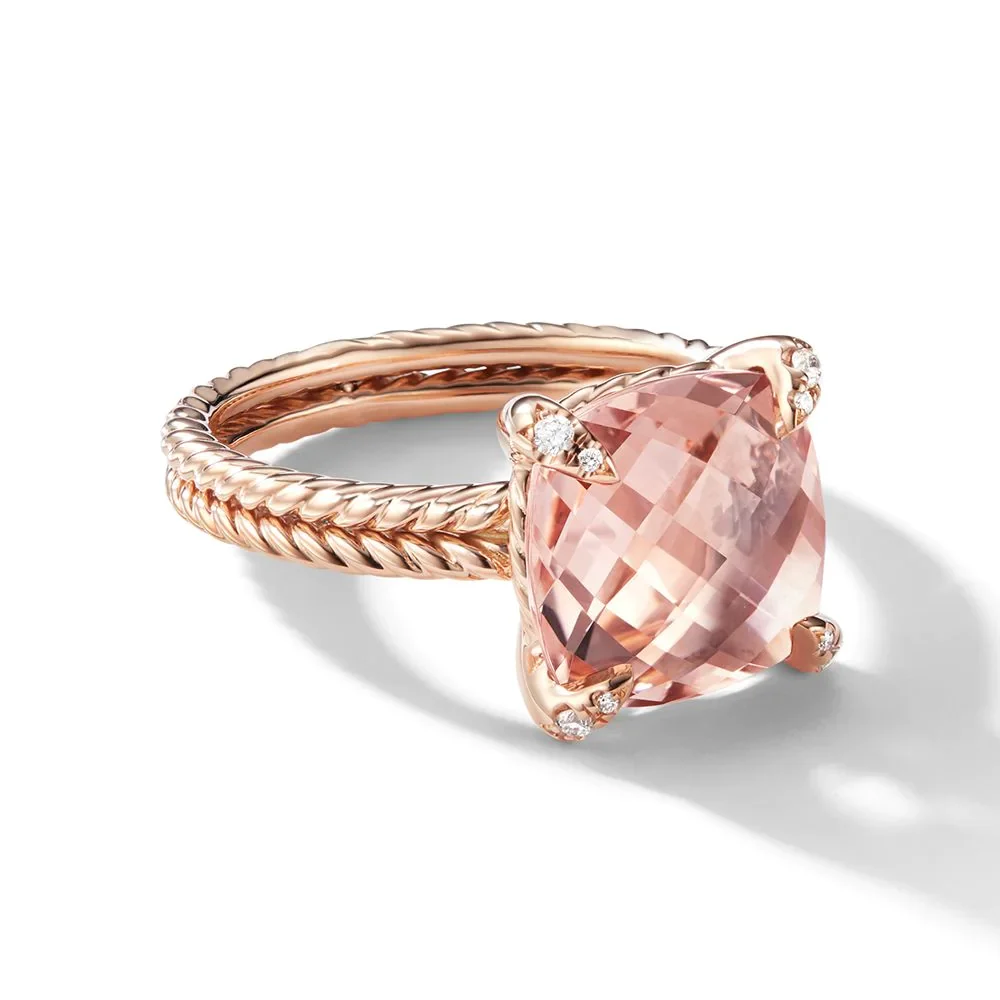 David Yurman 18kt rose gold Chatelaine morganite ring $2800, SHOP NOW.
Crafted in 18kt rose gold, this twisted band ring draws the eye with its faceted morganite and sparkling pave diamond edges – the result is a masterpiece.
SUSANNAH KING 9kt rose gold Vita morganite diamond signet ring $2062, SHOP NOW.
This 9kt rose gold signet ring features a morganite stone and round cut diamonds. It is highly polished with a hand-hammered effect.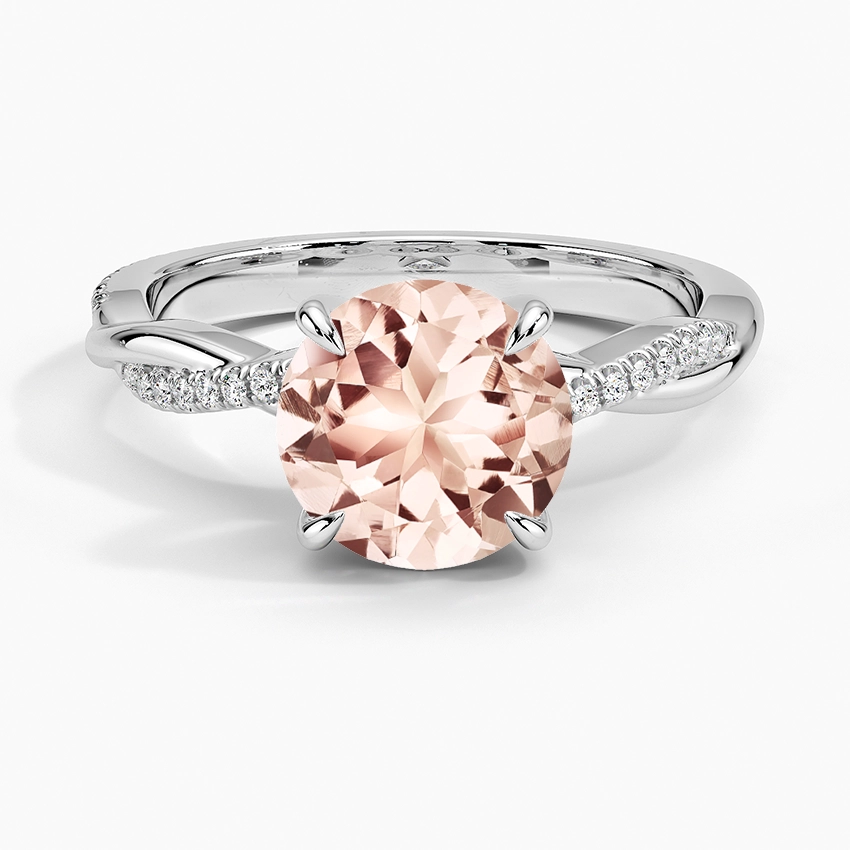 Brilliant Earth Morganite petite twisted vine diamond ring $2100, SHOP NOW.
This beautiful ring features a shimmering strand of pavé diamonds entwined with a lustrous ribbon of precious metal.
Rosery Poetry Pink morganite engagement ring $56, SHOP NOW.
This pink morganite ring is inspired by Princess Diana's engagement ring, which is a 12 carat oval sapphire surrounded by 14 round diamonds set in 18 karat white gold.
It features a pink oval nano morganite stone complemented with white cubic zirconia stones.
Nano gems are a name for a group of new materials for jewelry. They are neither synthetic crystal nor mineral. Instead, nano gems are hybrid gemstones. They are a glass-ceramic material with nano sized (10⁻⁹m) crystals in an aluminosilicate glass matrix.
Nano gems do not contain any health hazardous contaminants like lead, arsenum or cadmium.
Rosery Poetry pink morganite ring rose gold $60, SHOP NOW.
This pink morganite ring features a pink nano morganite stone complemented with white cubic zirconia stones. The band is made of 925 sterling silver, but also available in 10K, 14K, 18K gold.
Conclusion
Unlike pink diamonds, which are shining, luxurious and expensive, morganite is soft, romantic and much more affordable, which has finally made itself known to the world.
Read More
Rose quartz meaning, healing properties, jewelry: Everything you need to know
8 diamond alternatives that look like diamonds but might be better!