In this article we will discuss what are the most popular chain types and how to choose, whether you want to wear the chain alone or with a pendant.
Vintage style continues to gain popularity, and the chain jewelry that was once hot in the 90s is back. New collections of high end brands like Tiffany, Chanel, Nicole Miller, Oscar De La Renta have shown that chain jewelry will become a must-have for everyone who wants to be fashionable and cool!
Cable chain: the most common chain and the ultimate wing man
Satya Jewelry Sacred Protection Eye Cable Chain Necklace $79, SHOP NOW.
Cable chain is the most common necklace chain, made up of identical interlocking links. It is understated, elegant and versatile.
It does not add much to an outfit when worn on its own, but can be layered with other necklaces. Pendants are also often worn on cable chain. Cable chain does not distract and is perfect to help other pieces shine.
This type of chain is the ultimate wing man — cable chain is never the star and is great at introducing other pieces. This chain style is perfect for all occasions, all clothes, and all pendants.
Diamond Cut Chain: looks best with simple pendants
Catbird Jewelry solid 14k yellow gold diamond cut hand-twisted chain $188, SHOP NOW.
Diamond cut chain, despite its name, does not include any diamonds. An angular surface catches the light and causes a diamond-like sparkle.
This chain is a good option to wear on its own, but can also be worn with a pendant. This type of necklace chain looks best with simple pendants that will not compete for attention with the diamond cut sparkles.
The same is true for other accessories: this necklace chain looks best when it does not have any competition. It can also be used to achieve a layered necklace look. Diamond cut rope chains are a solid choice for any occasion whether formal or informal.
Ball/ bead chain: almost always seen with a pendant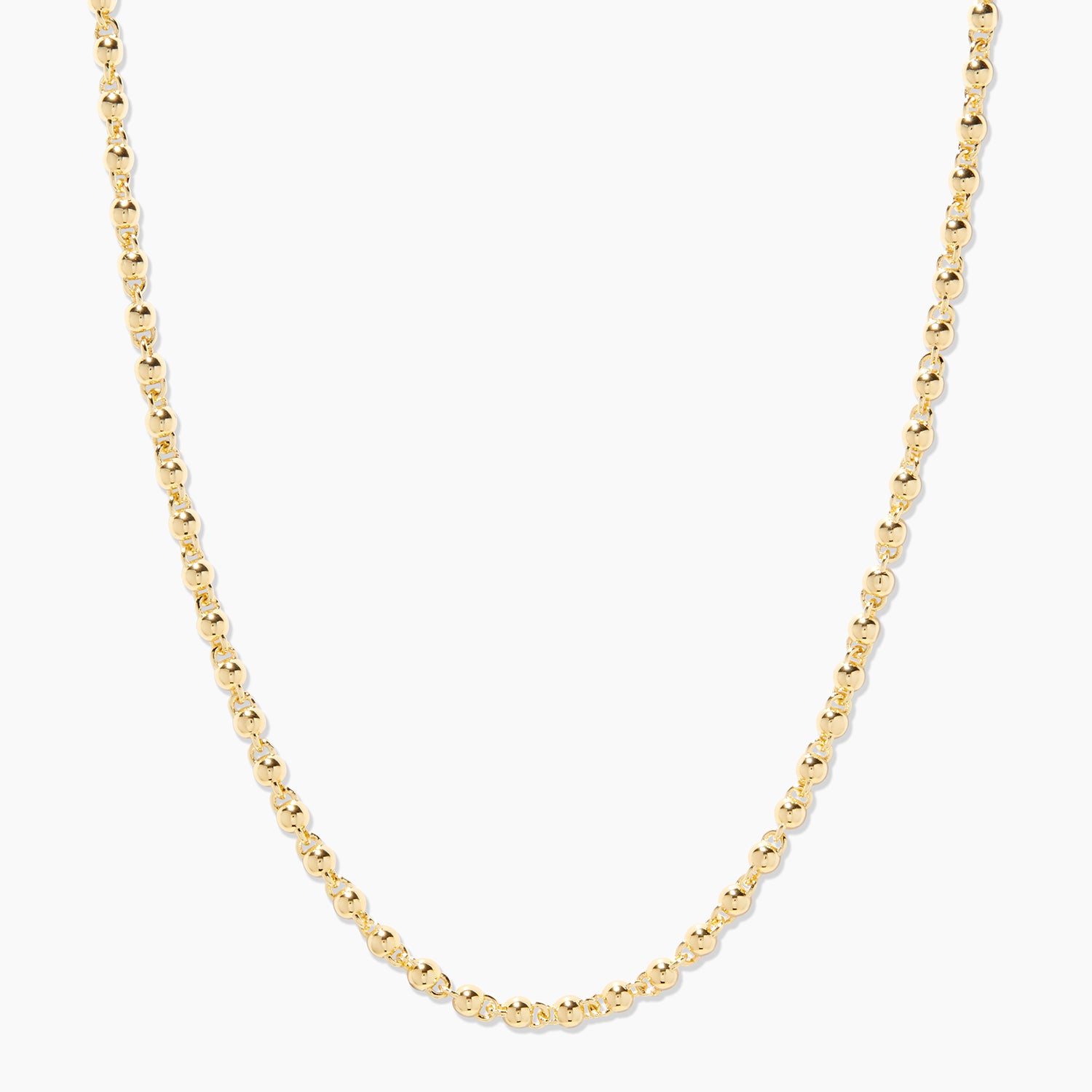 Gorjana bead chain necklace $70, SHOP NOW.
Ball or bead chains are almost always seen with a pendant, and are usually considered too informal for formal occasions. However, a choker-length ball or bead chain with smaller balls or beads can be an attractive and elegant choice well-suited to formal wear.
Rectangular or dog-tag style pendants are the most popular pendant choice, but round pendants can also be worn. However, heavier pendants should be avoided as this chain style breaks easily.
Experimenting with colors, sizes and lengths if ball or bead chains can lead to some riveting layered necklace styles best worn with casual outfits. In this application, ball or bead chains can be worn without pendants.
Figaro chain: without a pendant or a large pendant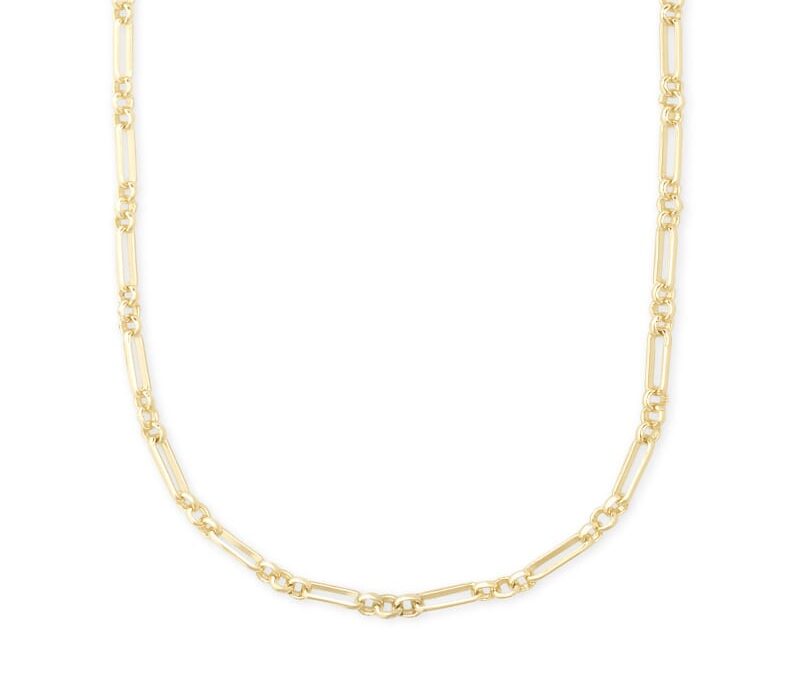 Kendra Scott Samuel Chain Necklace In Gold $48, SHOP NOW.
Another classic chain, the Figaro chain, offers enough visual interest to be worn without a pendant. The Figaro chain is also a good choice for large pendants. Caution should be taken with smaller pendants, as these might compete with the complex chain design.
Depending on the size of the links in the Figaro chain and the pendent chosen, Figaro chains can be worn both at formal and informal occasions. Because Figaro chains are complex, care should be taken to avoid wearing complicated fabrics like lace or heavily patterned shirts.
Snake Chain: without a pendant, in formal or semi formal settings
MISSOMA Gold Flat Snake Chain Necklace $256, SHOP NOW.
Sleek and seductive, snake chains are often worn without a pendant, and are more common in formal or semi formal settings. This chain cultivates a simple elegance that makes them the perfect choice for formal events.
While a snake chain is not the center piece of an outfit, it can upgrade an evening gown from mediocre to spectacular. For a more casual look, a snake chain can be layered with a pendant strung on another chain style.
Box chain: classic style, ideal for pendants
David Yurman Cable Amulet Box Chain slider necklace Sterling Silver 100% $395, SHOP NOW.
Because they allow a pendant to move smoothly along the chain's length, box chains are the ideal chain for pendants. Depending on the pendant, box chains are appropriate for formal as well as casual events.
A box chain will not get tangled with itself or other necklaces, so it is a good choice to layer or even to wear to bed.
The box chain is simple and durable enough to look good with pendants of any size, shape, or weight. While best worn with pendants, a box chain can be worn on its own to achieve a minimalist look. The box chain is a classic style of chain which means it will always be in style.
Rope chain: all depending on the thickness
Rope chains can be worn unadorned or with a pendant, depending on the thickness of the chain. Lighter-weight rope chains can complement a pendant, while heavier-weight rope chains are eye-catching enough to be worn without a pendant.
Gorjana golden rope chain necklace $65, SHOP NOW.
This chain style does not kink and gives an interesting texture for necklace layering. Rope chains are a versatile choice that fit any occasion. When using the rope chain as the center piece for an outfit, wearing a plain shirt is recommended. However, experimenting with textures like a cable-knit sweater and a heavy rope chain can lead to some captivating outfits.
Cuban/ curb chain: classic, center piece or part of a layered look
Cuban or curb chains are a perennial favorite, and transform casual outfits from uninspired to extraordinary. Of course, with the right charisma and the right outfit, they can be worn in formal settings.
A large, chunky Cuban or curb chain is enough of a statement piece to be the center piece of an outfit. Lighter weight Cuban chains look good with pendants.
Kendra Scott Curb Chain Necklace In Gold $60, SHOP NOW.
Heavier weight Cuban chains can look fantastic when layered with simpler chains to create a variety of shapes and textures. Because the Cuban or curb chain style is a classic, it will always be popular and never go out of style.
Wheat/ spiga chain: one of the most durable chains
Gorjana gold wheat chain necklace $65, SHOP NOW.
Wheat or spiga chains are one of the most durable chains on the market. These can be worn every day, depending on the chain weight, look fantastic with pendants. Lighter weight wheat or spiga chains look better with most pendants than the heavier varieties of this chain.
If a wheat or spiga chain is made from hollow links, it is not suitable for heavy pendants. Wheat or spiga chains are appropriate for all occasions, and can add an appealing texture to layered necklaces.
Mariner/ anchor Chain: look best without a pendant, formal wear
MISSOMA Fine Flat Mariner Chain Necklace $1454, SHOP NOW.
To let its intricate chain design shine, mariner or anchor chains look best without a pendant. Larger weight mariner or anchor chains make captivating statement pieces that can elevate formal wear or add refinement for casual outfits.
This chain type can be used to layer with other necklace types. However, care should be taken to avoid competing with other complex chains. If a pendant is strung on a simpler chain type that is a different length form the mariner or anchor chain, this type of necklace chain can be worn with a pendant.
Gorjana mariner chain necklace $75, SHOP NOW.
Byzantine Chain: one of the most complicated jewelry chains, street style, solid-color clothes
Ross Simons 14kt Yellow Gold Graduated Byzantine Chain Necklace $1795, SHOP NOW.
Byzantine chains are one of the most complicated jewelry chains available. Because they offer a significant amount of detail, only large pendants are suitable to be worn with a Byzantine chain.
A chunky Byzantine chain can create unparalleled street style or add interest to simpler formalwear styles. Very light-weight Byzantine chains can support smaller pendants and add some subtle elegance to any outfit.
These types of necklace chains are best used with solid-color clothes, as patterns can compete with the complex pattern. If used in moderation, a Byzantine chain can be used in necklace layering to incredible effect.
Belcher/ Rolo Chain: large pendants or a layered look, casual wear
18K Gold Filled Rolo Chain Necklace $45, SHOP NOW.
For an eye-catching first impression, the belcher or rolo chain is second to none. Large pendants look good when paired with belcher or rolo chain, as does layering with simpler chains. While belcher or rolo chains can be worn with the right formalwear, this style of chain is best suited for casual occasions.
Because heavy-weight belcher or rolo chains can easily be the center piece of an outfit, wearing loud patterns in conjunction to this chain style can be overwhelming. Such chains are a dramatic chain choice. In addition, they can add texture to any outfit.
Herringbone Chain: versatile, round pendants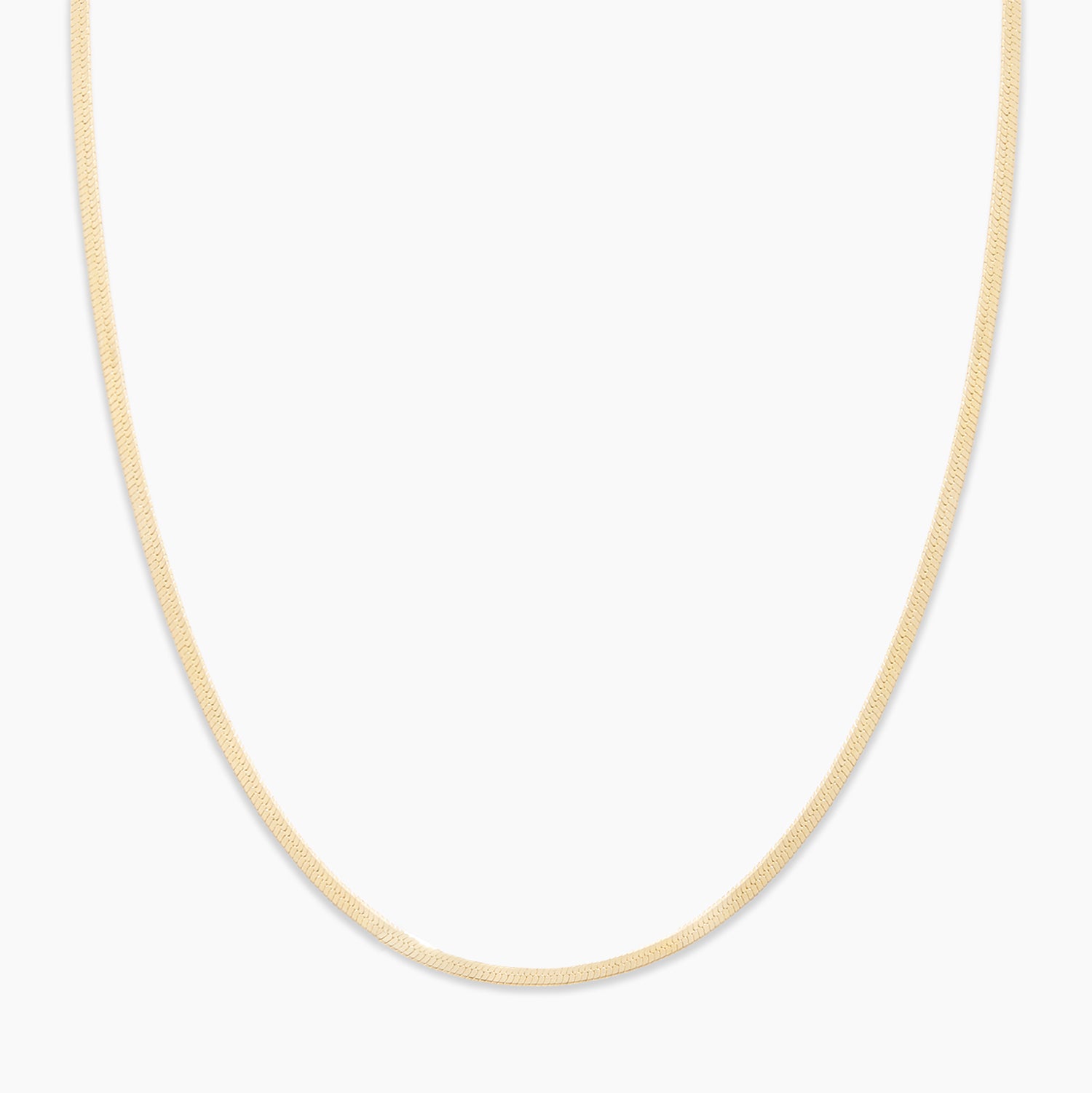 Herringbone chains are another versatile choice that can be worn anywhere in the range from casual to formal. Round pendants tend to look best with this chain, but a Cleopatra effect can be achieved by wearing an ankh pendant with a herringbone chain.
Gorjana 18k gold plated herringbone necklace $65, SHOP NOW.
Unlike other chains, this style can look entrancing when layered using identical chains of different lengths. These types of necklace chains look like liquid falling, and can make any outfit feel sophisticated.
Thank you for reading this article on the chain types, I hope it helps you get the information you need. Feel free to share your thoughts below or check out other articles we have published.
Tennis Chain: The Ultimate Statement Piece
Sky Austria gold tennis chain necklace $95.91, SHOP NOW.
The tennis chain is a chain that consists of a row of symmetrical diamonds or gemstones. Stones featured on a tennis chain are set into a metal chain which can be made from gold, silver, stainless steel and even brass. These stones are usually set in either a prong or bevel setting.
Tennis chains are the perfect chain worn on their own. It is the ultimate statement piece and shines like no other chain can. This chain will catch your eyes whenever you wear it, making it best suited for formal and fancy events.
Read More
Necklace lengths: 5 essential factors to choosing the right length!
Necklace for girlfriend: 28 hand picked items that will please her!