Do You Need A Blog For Your Business? How? (B2B!)
When it comes to digital marketing, a first choice might be advertising. However, with limited volumes of traffic and little impact on branding and customer value management, companies nowadays are switching to content marketing for better results.
Do you need a blog for B2B websites?
In fact, blogs among all content marketing techniques, are still the most efficient type. Content marketing is one of the recommended B2B marketing strategies to gain organic or unpaid traffic for long-term success.

To be detailed, the average length of the top 10 articles ranking in search engines is around 2000 words, i.e. often the length of blog posts instead of social media postings or white books, which means high quality and in-depth content is still the most popular format at least in Google search.
Blogs generate much more traffic for your website, including B2B
According to Forbes, websites that include a blog typically have 434% more indexed pages than those that don't.
Similarly, HubSpot announced that B2B companies that blog typically generate 67% more leads per month than those that do not.
The mechanism behind is quite simple. Search engines pick websites so as to direct traffic who are more likely to be interested. In order to choose a more suitable page, search engines index websites and pages based on authority and relevance:
They crawl content like URLs to look for topics, browse HTML code for metadata like particular tags or markups
They scan and visit links to or from the website. Quality links count as a positive recommendation
That is why, websites with a blog, i.e. more content to show to the search engines, are more likely to be recognized by them and to rank higher if, of course, the content is good. That being said, it does take some time, about 6 months to 1 year, for content marketing to really attract a certain amount of traffic to see conversions.
Therefore, for companies that are not ready to invest in content and blogging, finding an online marketplace management agency to achieve fast success is also a great choice.
The blog is the best place to put your content (keywords).
With a blog
Without a blog
Blog posts serve as a source for an aligned content strategy
Another point to make about the advantage of blogging is that you can always reuse the content created for blogging on other platforms, like social media, email newsletters, guest posting on 3rd parties, and even publications. 
People love to read, and blogging can satisfy readers, making it one of the most effective marketing strategies, for promoting business profitability. You'll notice blog sections even on B2B websites nowadays. Blogging as part of B2B marketing is no surprise because blogs serve as references for the business market, considering similar products or services like what you're offering. Check out these blogging tips to boost your content strategy:
Take Advantage Of Community Forums: Align your content strategy by making yourself visible on community forum websites, such as Reddit and Quora. By doing so, you can connect with more online users and share your content, as well as direct them to your website by inserting your webpage link as a helpful resource.
Share It: Share your web content on your social media fan pages because B2B readers are also active on these platforms. For instance, you can share a summary of your original post to your Facebook page and insert your link. Avoid publishing several content pieces at once to avoid being flagged as spammy.
Diversify: Make your content diverse to make it more interesting, informative, and entertaining. A good combination of texts, images, photos, and audio content avoids boredom. Some examples of content that appeal to B2B readers include trivia, case studies, facts, and statistical data. Providing social proof and helpful high-authority references through external links are highly recommended.
Be Technical: Unlike business-to-customers (B2Cs) or the consumer market, it's best to use technical terms or jargon in your content because B2B or the consumer market is comprised of industry leaders and experts. So, your blog should be credible and professional, reflecting your expertise. B2B clients prefer dealing with experts, too, cutting the lengthy explanation, and going straight to the point.
B2B clients are more inclined to quality content before any purchase
Quality content is required for all those platforms for your B2B business. After all, in the B2B world, clients are much more informed and sophisticated than in B2C. They are not easily touched by shabby articles written unprofessionally.
They are more difficult to find too. Therefore apart from blogging on the official website and maybe advertising (if it applies to you), you should always take initiative to reach out to them.
For example, join Linkedin groups with your potential target and lure them in with content. I will cover this in the "How" chapter.
Finally, let's discuss budgets. Technically speaking adding a blog to your website costs almost nothing. The majority of expenses go to content creation and publication.
How to run a blog then?
Blog on your own
You can either choose to write blog posts in-house, as I am doing right now. In this case, the company does not have to give away any more salary.
And, answer to your question in mind: Yes, you can write!
We are not talking about winning a Nobel prize in literature, where you have to be a guru of the language producing real beautiful poetry for people to read and recite.
Everyone has a talent. What is rare is the courage to nurture it.

Erica Jong
In the business world, what really matters is data and insights. Maybe pleasant pictures too let's say. But those are all easy to achieve as long as you devote sufficient time to research and synthesize. 
Just ask yourself this question: Could you defend yourself with supportive evidence during an argument, say, with friends? 
See my example below.
Point: I think we should stop eating meat because keeping animals in captivity is anti-human and raising livestock is producing too much carbon dioxide that we can no longer afford.
Evidence: In fact according to a report published by United Nations, agriculture is responsible for 18% of the total release of greenhouse gases worldwide and cattle breeding is a major factor.
Conclusion: Therefore if we could consume less meat, we can help to save the climate.
Ignore the argument itself. What I am trying to say is that you can be a blogger as long as you know how to make a point.
In this case, maintaining a B2B blog will not generate huge extra costs for your team. But you will have to pay a small amount (less than $50 per month )for useful tools so to make your life easier, for example, a content planner, keyword research tools, idea generators, and SEO.
Hire professional writers
If you have over $1000 to spend on content marketing ( besides online advertising), then I strongly suggest that you hire bloggers to create content for you.
The trick is never to sign a long-term contract but to pay per article. Once they become a full-time employee, their productivity will drop as hell. Instead of 3 posts per week, they would probably write 1 every 3 weeks.
There are many platforms online for you to find a blogger.
1, Content providers to whom you pay and discuss the content with the platform itself: Verblio ($300 per 2000 words)
2, Content marketplaces where you need to choose an author and negotiate details with the writer instead of the website: TextBroker, iWriter, WriterAccess, Zerys, and Scripted ($150 per 2000 words)
3, Job boards where you totally do self-service: Broblogger, Craigslist (prices vary according to negotiation)
Most platforms from the first two categories provide a refund guarantee if the article fails your expectation. There is no harm to try.
Take Textbroker (P.S. Not a business partner of mine) for example. The first step is to type in the general information for your order.
In this case, I asked for 5 Star authors (Remember to always choose the best authors! Otherwise you will waste more time in negotiating details with them!) for around 2000 words and the cost is about $150. Totally affordable I think.
Next, you can even request specific titles and keywords which I believe is quite convenient. Remember not to stuff though. You don't want the readers to think that the article is written by a robot.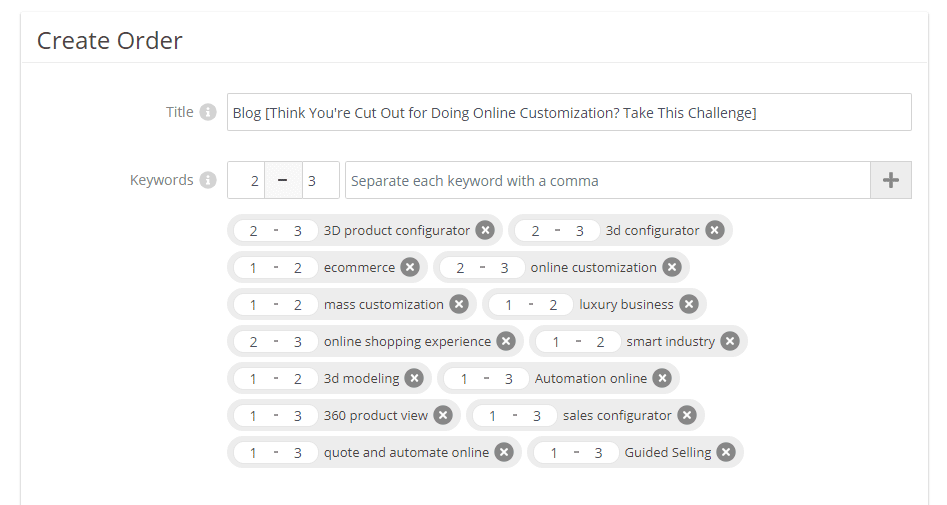 Another example: UI for Verblio (P.S. Not a business partner of mine) looks like this. Simply fill in a little background about your demands and then choose the quality level ( from 1 Star to 5 Stars ), length, and number of articles.
In a few days, they will send you a draft to review. You can choose to approve, deny or further discuss with the author. They promise a full refund if you are not satisfied.
The most recommended frequency to post is 3 times per week. From here you can calculate expenses for blogging. But remember, if you don't have enough budget for so much content, it is always better than nothing.
In the end
Blogging is proven to be the most efficient method for generating qualified leads as it attracts traffic with a strong intent and can automatically convert them by the content itself.
A general advice for B2B companies, especially startups, is to execute content marketing including blogging based on what little resources you have.
The method will prove itself by bringing in organic traffic over time. The only matter is you need to try.