How to start a lifestyle blog, promote it and make it profitable? In fact, lifestyle blogging is a complex process that may prove extremely rewarding, when done right. To help you get the most out of your efforts and guide you through this, I have created this go-to guide on how to start, promote and monetize a lifestyle blog. Enjoy!
1. What is a lifestyle blog?
Lifestyle is defined as "the typical way of life of an individual, group, or culture", considering it synonymous with terms like "culture", "civilization", and "society". Indeed, lifestyle is a broad term that describes everyday interests and activities.
A lifestyle blog is like a digital representation of the blogger's diary, where you can write about anything interesting goes on in your life, including health and fitness, beauty, food and cooking, travel, luxury, motherhood, and so on.
The content approach may be different from one lifestyle blog to another, as bloggers may either choose to cover as many aspects as possible or focus on one of the topics mentioned above, which is a better strategy in the beginning.
2. Top lifestyle blogs and their success stories
Before discussing how to start a lifestyle blog, it is a great idea to check the top lifestyle blogs out there to get motivated. Here I have selected a few that I think are very inspiring.
In 2008, Oscars best actress winner Gwyneth Paltrow created a newsletter called Goop, which she later turned into a lifestyle blog.
Although the website is considered controversial since it supports medical and healing theories that are said not to be scientifically proven, this project has gained so much popularity that now it has created its own Netflix show.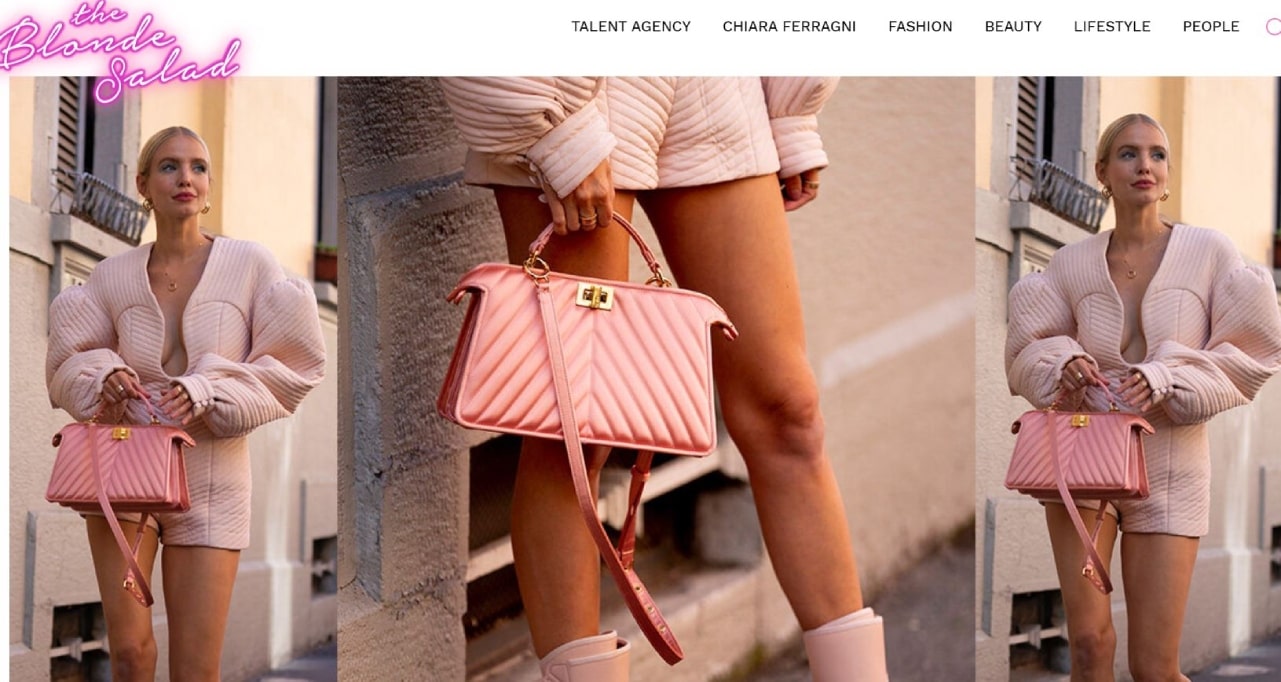 Of course, one cannot talk about lifestyle blogs without mentioning Chiara Ferragni, one of the world's fashion icons and well-known entrepreneurs.
Under the name The Blonde Salad, Chiara started her blog in 2009, writing about fashion, beauty, home decorations, travel, and so on. Since then, she has won numerous awards, was featured in magazines like Vogue and Elle, and even launched several lines of products, either independently or in partnership with designers such as Steve Madden.
3. How to start a lifestyle blog?
Finally here comes the serious stuff. In this chapter, we will discuss with you how to start a lifestyle blog and try to offer you the best solutions regarding web hosting, content management systems, themes, plugins, content creation, and so on, based on our experiences and expertise.
3.1. Choose a domain name and an URL
One of the first steps you need to do is to choose a name for your blog. Here, you have several options. You may go by your actual name and make it a personal brand, or make up a name that represents your style.
My advice is to find a name that clearly defines your story. In addition, it needs to be easy to understand and memorize, without uncomplicated spellings, meaningful or amusing. Lastly, use some flexibility in case you might be interested in scaling the business or even selling it.
Make a shortlist of the names you like and see for which you may find available domains. The easy way to check is to use Bluehost. Regarding domains, make sure to get a .com domain name so that you can better reach a worldwide audience someday.
Before making a final choice, try to ask for feedback from friends and family members who might be similar to the people you are targeting.
4.2. Get a secure web hosting service
Once you have the name, the next step would be to sign up for a web hosting service. I myself have chosen Bluehost and I would recommend it to others too, especially for beginners, since it offers both good pricing and excellent features.
Listed are a few benefits of working with this service. If you choose Bluehost too, make sure to sign up through my link so that you can get a discount price at $3.95/ month (56% off) instead of the normal $8.99/ month.
A free domain name for a full year.
An extremely cost-effective solution: Priced starting at $3.95 / month.
An intuitive and easy-to-use platform that doesn't require any technical knowledge.
Automatic WordPress installation and updates: You enjoy updated and secure versions of WordPress easily.
Microsoft 365: Enables you to create professional email accounts with your domain name.
Access to custom themes to make your blog stand out.
24/7 customer support: Very important for beginners.
In order to sign up, all you need is your personal information and a credit card. The process is quite smooth and not much technical knowledge is needed.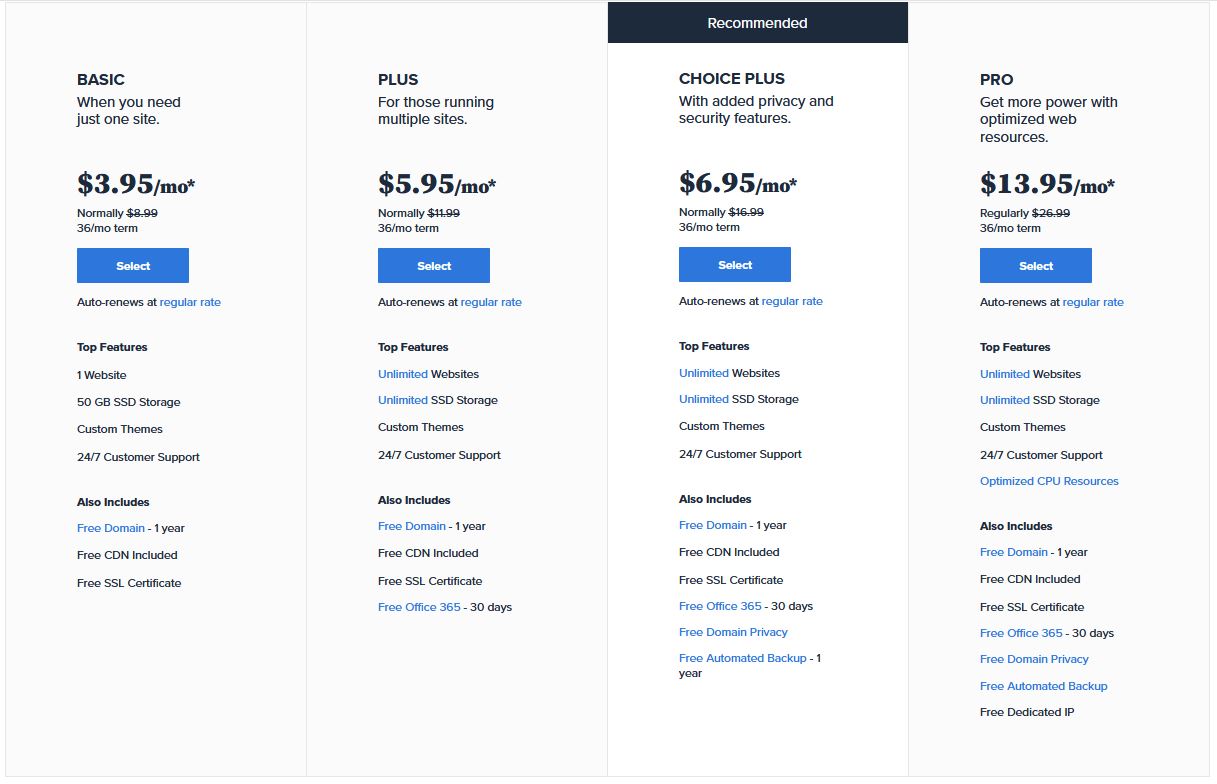 If you click the link above, you will be directed to the pricing page as shown above, where you can see exactly what is included in each package.
A basic package is recommended for beginners, with features including 50 GB storage, custom themes, 24/7 customer support (Again, a very important feature), free domain, free CDN (For higher speeds and better web page performances), and free SSL certificate (For security). This package is quite sufficient.
Next, you will be guided to choose a domain name. Simply fill it out, and the platform will check if the domain name is available. If not, you might want to switch to an alternative.
After choosing an available domain name, fill out your account information, package information, and payment information, submit and form and you are done!
Yes, it is coming. After submitting the form you will be directed to the login page. As a first-time user, you need to create an account instead of signing in like I do.
Are you ready to start a blog with Bluehost? Make sure to sign up through my link so that you can get a discount price of $3.95/ month (56% off) instead of the normal $8.99/ month.
4.3. Install WordPress
The easiest and most popular way to start a blog is using WordPress, a world-famous content management system/ CMS. It is free, responsive, easy to use and maintain, and an excellent choice for blogs and e-commerce websites.
Installing WordPress in Bluehost is very easy, since the platform offers automatic WordPress installation and updates, as mentioned above.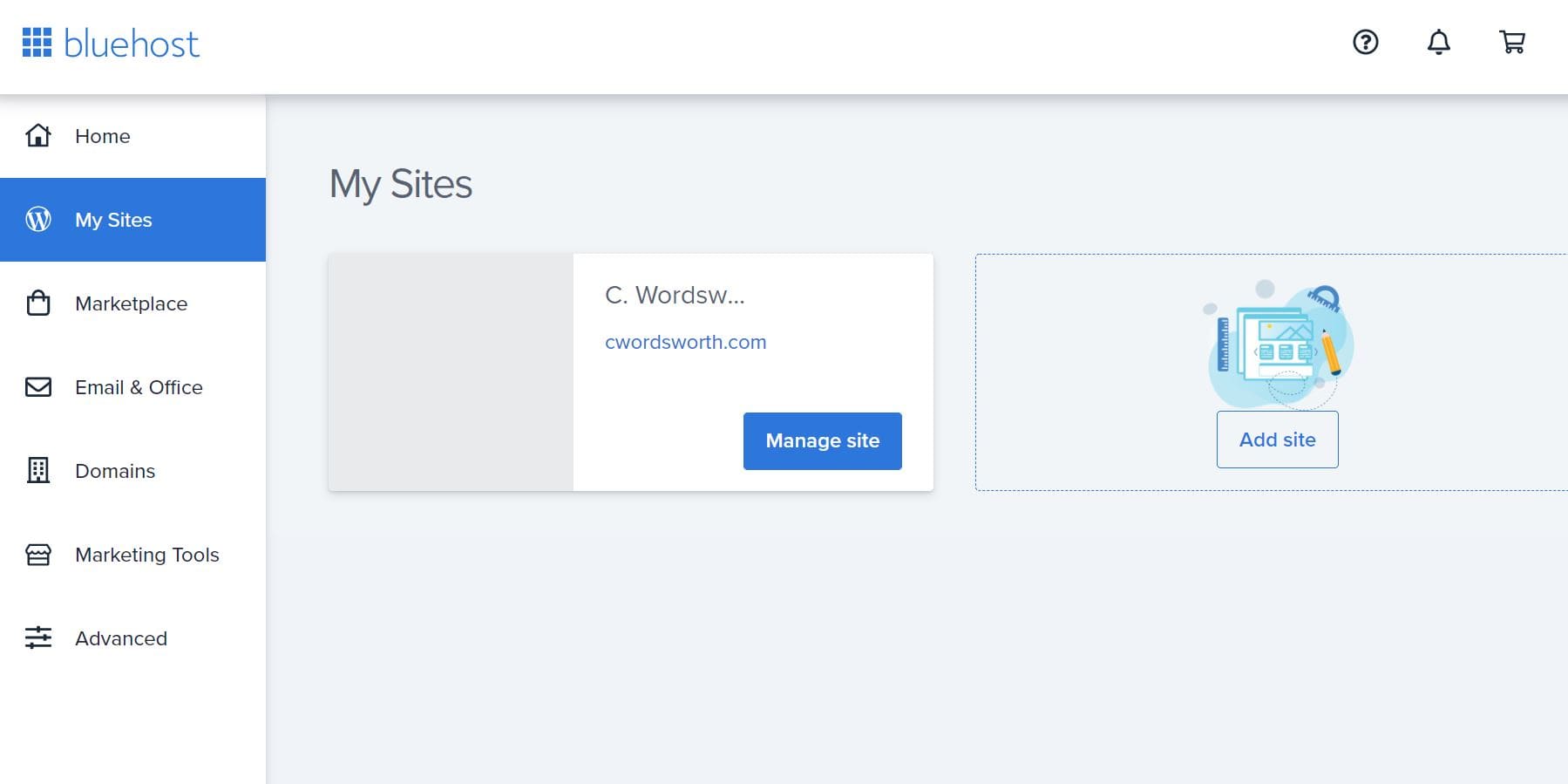 All you need to do is click My Sites in the Bluehost control panel, Click Add site, and then put in the needed information about the domain you have just chosen.
Put in information about your chosen domain here, and then in the next step click Install WordPress. The installer will take a couple of minutes to complete the application.
And then you will be directed to the backend of WordPress in the admin panel. This is where the magic takes place. You can manage your site, create and publish content, install and update plugins, read or delete comments and, of course, make money.
Ready to start with Bluehost? Make sure to sign up through my link so that you can get a discount price of $3.95/ month (56% off) instead of the normal $8.99/ month.
4.4. Choose a theme
Finding a good WordPress theme is sometimes like finding a movie on Netflix since with so many options, you might end up browsing for hours. Apart from the aesthetics, there exist necessary technical attributes you need to look for in a good WordPress theme:
SEO- friendly
This is the most important feature that you need to pay attention to, as later on SEO plays an essential role in the success of your lifestyle blog. We will cover this topic in detail in the chapter How to promote your lifestyle blog. In fact, to check whether the code of a theme is SEO-friendly, you can get help from W3C Markup Validation.
Clean, light, and optimized
This is to ensure quick page loading time. The best way to achieve this is to do a test setup before making the purchase.
Customizability
The ability to make changes to your theme and to ensure it meets your needs and requirements. This is needed as you will want to personalize your blog someday.
Responsive and mobile-friendly
This feature is important nowadays since 92.6% of Internet users go online through mobile devices at least some of the time. Indeed, your theme should adjust to different screen resolutions and sizes to offer a high level of readability.
4.5. Install a few helpful WordPress plugins
What is wonderful about WordPress blogs is that they may be enhanced with different plugins to bring added features to your website. In short, a plugin is a portion of code that delivers certain functionalities to an already existing page.
In order to choose a high-quality plugin, you have to perform some due diligence. For example, check the developer, read reviews of the actual plugin and see how many times it has been installed and ensure it is updated regularly.
Here I have a list of recommended plugins that I find helpful.
SEO- Rank Math: A plugin that enables optimization for search engines, allowing you to create SEO- friendly posts and pages.
Page speed- Autoptimize: A plugin that makes it easier for your website to load, as it enables caching and optimizes your CSS and JS files.
Image compress- Smush.
CDN- Cloudflare.
Affiliate marketing: Pretty Links.
Language: Polylang: Yes if you are going international!

5. How to create great content?
After learning how to start a lifestyle blog, we now need to see how to create great content. Basically, creating great content means doing research to see what users are interested in and what is working. There are certain requirements to meet to create a good piece of content.
SEO friendly
Do keyword research to check volumes of traffic and difficulties of ranking, using tools like Ahrefs, and then strategically deploy them in your content, optimize URLs, titles, meta descriptions, tags, images, links, and so on, using Rank Math. Of course, SEO is much more complicated than this. We will cover this topic in another article.
Easy to read and even skim
Use subtitles and short paragraphs to make your content readable.
Make it long and in-depth
The average length of the top 10 articles ranking in search engines is around 2000 words. In fact, your articles need to be either informative or entertaining to get a good ranking, since visitors as well as search engines will only like good content that tells stories, offers insights, inspirations or entertainment.
Publish frequently
Ideally 4 articles/ month. Updating your blog frequently helps search engines to understand that your site is carefully maintained.
Stay true to your own style
Lastly, no matter what you are writing, you should always stay true to your style and express your personality. This is what differentiates you from other bloggers.
6. How to promote your lifestyle blog?
This is actually the most important and also the most difficult part of our guide on how to start a lifestyle blog. Indeed, there exist millions of blogs out there. How can yours stand out?
We sure need some techniques to help your blog gain popularity fast and benefit from a wider audience. Here is a basic comparison of each method. Keep reading for more details.
SEO brings in huge traffic over time but relies heavily on quality content.
Email marketing presents the highest conversion rates, but we need to obtain an email list first.
Paid advertisement is costly but drives traffic rapidly.
Social media posting requires an audience.
6.1. SEO/ Search engine optimization for huge volumes of sustainable traffic
The best way to generate huge amounts of traffic and leads is SEO. It helps our blog to rank top in the search engine when potential customers search for certain content and type targeted keywords. In fact, 75% of people only scroll the 1st page of a Google search and most of them only click the top 3 results.
In order to achieve this, we need to show search engines that we are a big deal through Search Engine Optimization with the help of high-quality content.
6.2. Guest posting to get backlinks and a bit of traffic
Backlinks are the most important thing for organic ranking. They serve as upvotes for the quality and popularity of your blog, especially those from high-authority domains. The more, the merrier.
But now comes the hard-core stuff. High-rating or high-authority domains never easily give do-follow backlinks. The possibility to get one from those websites is that either you get cited by them, or you write for them inserting in the article a backlink to your blog. The latter is what we call "guest posting".
Basically, guest posting means reaching out to high authority domains with a 50+ Domain Rating ( Use Ahrefs to verify), or a 40+ Domain Authority (Use MOZ to verify), asking if they accept guest posts, writing content based on their guidelines, and finally, getting a backlink.
You can do it on your own, hire a freelancer to do outreach for you, or outsource it completely to a backlink-building agency. We have covered this topic in another article, check here.
6.3. Social media marketing
Social media have a large and engaging audience, who are especially interested in visual content. Therefore, having a strong social media presence is very helpful to get traffic and conversions for your lifestyle blog. Recommended platforms include Pinterest (Yes! The first choice for most lifestyle bloggers.), Instagram, Facebook, and TikTok.
6.4. Email marketing
Email marketing presents the highest conversion rates, but we need to obtain an email list first. After we have a list, we can use email marketing to reach readers and update them on new articles and projects.
6.5. Paid ads
Advertising is easy and doable. If you have extra money then keep it going. Try it for 3 weeks and do some accounting, i.e. costs, click-through rates, and conversion rates ( you have access to all these data in advertising platforms like Google Adwords and Pinterest), to see if it is cost-efficient for you or not.
Advertising helps to gather information about your potential target and receive feedback on the content, products, or services that you are trying to provide.
But advertising is no way to improve search engine ranking or bring organic traffic to your website. Using this method you will get a limited number of clicks, according to the budget. Over time the costs will increase and the traffic the opposite.
Of course, in order to make your lifestyle blog gain as much traction as possible, you should use all your available resources and share your articles with friends, family members, and ask for feedback. You would be surprised to see how word-of-mouth can help good content spread.
After reading all the methods to promote a website, are you ready to start a lifestyle blog with Bluehost? If yes, make sure to sign up through my link so that you can get a discount price of $3.95/ month (56% off) instead of the normal $8.99/ month.
7. How to monetize your lifestyle blog?
After learning how to start a lifestyle blog, monetizing your blog now becomes the ultimate goal. If this is your case, then there are certain things you need to take into account from the start:
7.1. Brand-centered campaigns
Brands love to work with bloggers and influencers to reach a wider audience and they are usually very generous on commissions. To achieve this, you need to be the kind of blogger with which brands want to be associated. That is to say, you need to have a great reputation and deliver high-quality content. Before reaching out to them, you could start by promoting products for free, and sharing your lists of beauty go-to's, restaurants, or clothes.
7.2. Product tests and reviews
This means being paid to try, review and post content on products in which you are experienced and interested. The advice here is, to be honest. Do not go overboard with praises or be too harsh. After all, your priority should be to develop good content that your users appreciate and find helpful.
7.3. Affiliate marketing
Affiliate marketing works in the following way: The blogger, or the affiliate, in this case, publishes content and sends traffic to an advertiser, and receives a small commission if the traffic converts. Popular affiliate programs include Amazon Associates, Awin (Etsy, Farfetch), ShareASale, eBay Partner Network, and so on. Affiliate marketing is highly competitive so you might want to sign up for training. The best affiliate marketing courses will teach you how to set up your affiliate site, best practices, and most importantly how to get ranked by search engines.
7.4. Advertisement
Placing advertisements is the last option for monetizing your blog, as it influences user experiences and does not bring in decent money. That being said, if you insist in doing so, you can either sell spaces on your blog directly to brands or sign up for Google Adsense, a tool that places ads automatically on your website.
8. Extra lifestyle blogging tips
Discipline and consistency: Work according to a plan and post high-quality content constantly. If you stop maintaining for a while, rankings will drop and your heart will be broken.
Analyze performances regularly using tools like Google Analytics and Ahrefs to assess your blog and get better results over time.
Feel free to outsource some of your work. It will be difficult to do everything on your own, especially when lifestyle blogging is only a part-time job for you.
Passion! Yes, learning how to start a lifestyle blog is difficult and, when you do things with passion, users can tell and share your enthusiasm.
A few questions to ask before lifestyle blogging: Should I start a blog?
Are you passionate about content and consider yourself a lifestyle connoisseur? Do you know the latest trends, and the hypest venues, enjoy traveling and sharing your experiences with others. If yes, you might be asking yourself a very important question: "Should I start a blog?". The answer depends on several questions that you need to take into account:
Are you a curious person?
When you have a lifestyle blog, you start from the premise that it will deliver content that is interesting and appealing; therefore, curiosity and passion are essential. That is to say, looking to discover new things, places, and people, and staying up to date on what is happening in the world around is extremely important for successful lifestyle blogs.
If you feel like you want to share your experiences and opinions through lifestyle blogging, which might help to educate, make a difference or add something to the overall landscape, I invite you to keep reading.
Do you have time to run a blog?
Many bloggers started their lifestyle blogging careers without giving it much importance. But if you are interested in turning your lifestyle blog into a source of income, then you need to invest a certain amount of time and energy.
Do you enjoy creating great content?
Blogging isn't only about getting the information, but also about delivering it in ways that capture people and make them ask for more. This is why being a storyteller and often a photographer is very helpful for lifestyle blogging. This being said, you can always outsource some of your work to professionals if needed.
Do you want to earn extra money?
There are multiple ways to make money from lifestyle blogging, including affiliate marketing, sponsored content and partnerships, advertisements, and so on. As a matter of fact, since lifestyle blogging covers almost everything in daily life, there are fewer limits on how to monetize it than in other categories.
If you have answered the questions above and still want to learn how to start a lifestyle blog, then congratulations. This guide is written for you.
Conclusion on how to start a lifestyle blog
Now, you have the tips and tricks which will enable you to start your blogging journey and prepare yourself for monetization. All you need to do is start creating content. Happy lifestyle blogging!
Thank you again for reading this article on how to start a lifestyle blog. I hope that you find all the information needed. Feel free to comment below or check other articles that we have written about business, marketing and finance: Two Proven Methods To Attract Traffic! No Special Skills are Needed!