Maximalist jewelry: How to keep up with the trend?
As a part of style, jewelry trends always change with time and the tastes of generations.
Now with luxury brands such as Gucci bringing maximalist jewelry to the show, jewelry that has always been reduced to a supporting role in the fashion field, has stopped being reluctant to develop a richer and more in depth style.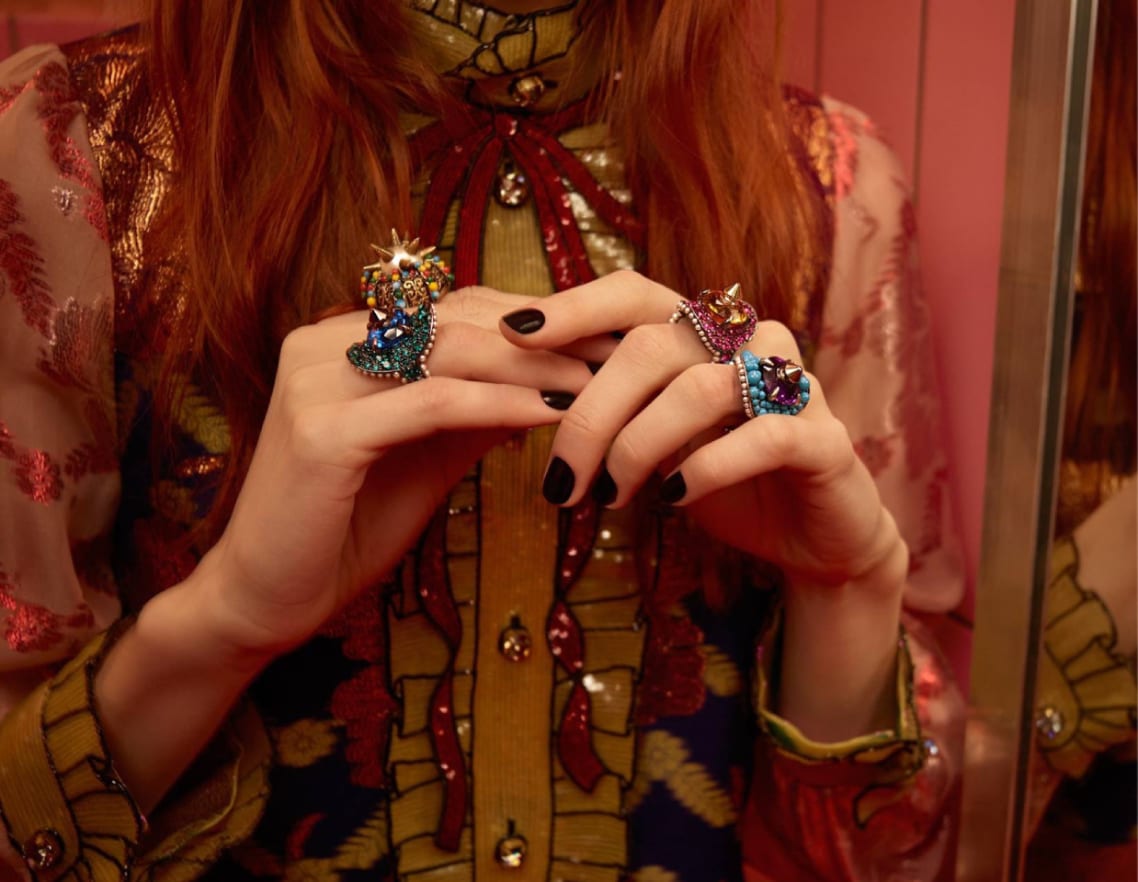 With heterogeneous stitching, superb craftsmanship and a multi-colored carnival, jewelry reshapes its identity as a protagonist independent of high-end clothing;
Apart from being all shining and victorian, this trend also contains refreshing materials such as natural shells and pearls, which retains a fine touch of elegance and simplicity for women who are mature, capable with leadership.
All about maximalism
What is maximalism?
In fact, maximalism is not a new word. It has been popular for centuries. The representatives of maximalist design are "Baroque" and "Rococo" styles, which were proposed in the 17th-18th century and 1820s, the former was born in Italy and the latter was born in France.
To be straightforward, maximalism is all designs that show decadence, wantonness, and extravagance, and boldly use colors and patterns to complete 100% eye-catching designs.
Now this trend of "less is more" is gradually changing the fashion world. Many brands have added elements of maximalism to their new products.
The most typical representative brand among them is of course Gucci! Since Alessandro Michele took over the design director, he has brought the brand a completely new look and fermented his maximalist concept in the brand.
What are the characteristics of maximalism?
Collision of colors
Maximalism never fears the superposition of colors. In fact, the more colors, the more outrageous, the better. Bold contrasts of colors often bring unexpected visual experiences.
Maximalist designers like to use bright and highly saturated colors. Deep red, pink, orange, green, etc, these are the favorite colors.
Countless patterns and shapes
In the world of maximalism, patterns and shapes can also collide with sparks as boldly as colors, and maximalism is most perfectly presented here.
For example, the colorful flower patterns have rich and varied shapes and are very much preferred here.
In the mean time, we must pay attention to maintaining consistency and integrity as a whole.
Repeat, repeat, repeat
Nothing embodies the aesthetic pursuit of maximalism better than repetition. With just one element, designers can transform into subtle and beautiful circular patterns to complete a fashion design.
From elegant flowers to fun animal patterns and geometric stripes, simple repetitions can be very pleasing and maximalist.
Good at combining different elements
Combination means designing different types of elements. Flowers, plants, fun patterns, geometric lines, color blocks, etc. all can be grouped together. The integration of elements needs to be non-obtrusive and orderly.
Maximalism is not encouraging to simply stack complex elements together, but to careful match so that each element can show its greatest advantage.
Add fun and fantasy elements
Maximalism pays great attention to complex things and fantasy elements. In maximalist design, we can use fantastic and interesting elements to create outstanding works through bright colors, vivid patterns, decadent images and rich imagination.
Therefore, whether you want to imagine a brand new fashion world or make a packaging for a fashion brand, don't talk, let your imagination run your brain.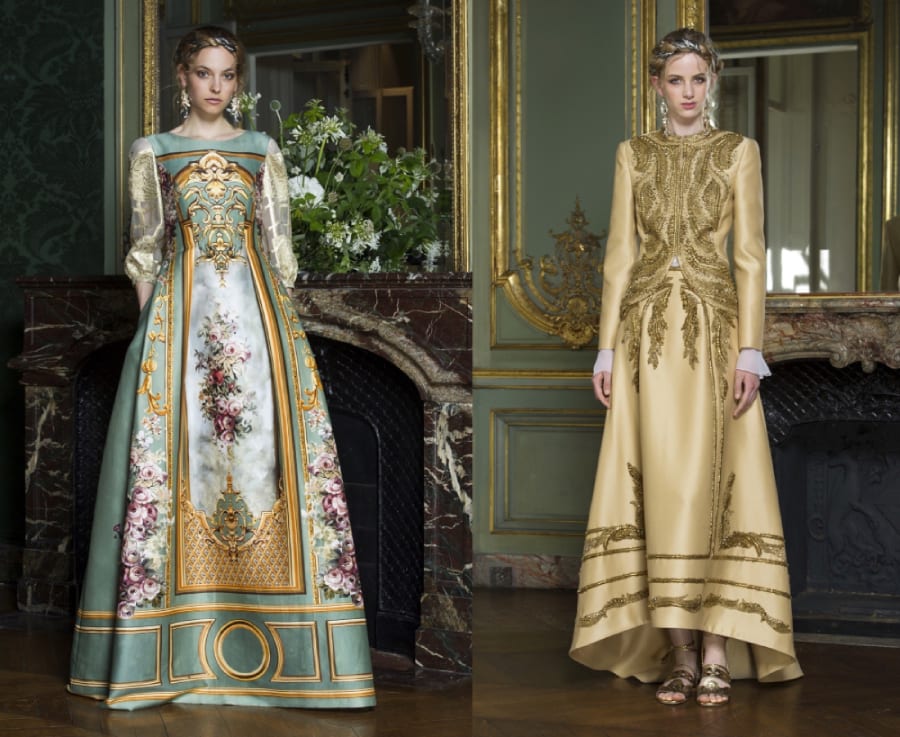 Order in chaos
A good way to make a maximalist design is to "look for order in chaos." In fact, colors, patterns, repetitions, imagination can all be used to catch people's eyes and convey messages.
6 trends on maximalist jewelry
In the following content, we have carefully selected 5 hottest trends on maximalist jewelry and representative and high-quality works.
Let us learn and keep up with this trend and see how this variation will continue to play in different tones. We sincerely hope that you would like this article.
Pearls: For elegant and romantic women like you
Pearls are said to be a design highlight that never fades in the industry of jewelry. Whether they go as the main character or a supporting role, pearls can always achieve a fine tuning touch.
In addition to being used as a densely chained necklace or a pair of complicated metal earrings, or as an embellishment on the hair, pearls immediately bring out nobleness and elegance in a woman, making the wearer feel like a bride to be married.
There are few women's jewelry pieces more timeless than pearls, and these unique earrings and necklace are the perfect twist on a classic. Gold and pearl earrings are a jewelry must-have, perfect for anything from a day at the office to a night on the town.
Shine on in the fine craftsmanship and unmatched quality of these 14kt yellow gold and pearls and you will know why they are a forever favorite.
Pearl jewelry is perfect for the modern woman with a sophisticated sense of fashion. Whether you prefer modern or traditional jewelry, pearls help display a luxurious statement.
Chandelier: For gorgeous and complicated like you
The term "chandelier" in design not only represents "stripes of shiny crystals", but also strips made of pieces of different materials. Choose a pair of brilliant chandelier earrings and for a better combination, try wear minimalist clothes as a companion.
Fringe and sparkle? Two of our favorite things! Marquise-shaped chandeliers boast an embellished design and add some sparkle to your jewelry collection. Chandelier earrings are truly timeless jewelry for the modern woman.
Gemstones: For passionate and confident women like you
Colorful gemstones are definitely a go to choice if you are into maximalist jewelry, of which one of the core design concepts is to stuff colors.
This is the strategy adopted by most high end jewelry brands such as Gucci, Bulgari, Graff and Garrard, to create a fantastic and gorgeous dream land.
In order to make your multi colored jewelry a sole highlight so it fits in daily wear, you might want to limit the rest of your ensemble to only 1 or 2 colors so that they do not look chaotic as a whole.
Shells: For interesting and lovely women like you
It is also a good choice to wear certain shells such as cowries, scallops and spiral shells around the wrist, under the ear, or string directly into a necklace as a pendant to form joyful holiday style;
Shells can also be combined with metals to create a unique and stylish attitude.
Breathe in the salty air and feel the sand between your toes. With a seashell motif, such necklaces will transport you to a beautiful seaside escape.
Shell jewelry suitable for daily life and friends meeting, especially for the beach. The summer is coming,so choose the charm design chain shell multilayer choker necklace for yourself.
Letters: For women who adore simplicity as you
If you still can't forget the beauty of minimalism after seeing so many complicated designs, then try alphabet jewelry.
Brands now are trying to inject creative ideas into the original monotonous 26 English letters and combine with them gemstones and pearls, which breaks the stereotype of "letter jewelry = tacky", and easily conquers the infinite charm of lettering.
Letter jewelry gives the wearer great flexibility to personalize the pendant to tell its story the way you want to tell it. They also go with other accessories as part of a layered ensemble.
Bohemianism: For artistic and unique women like you
Jewelry with a natural and pure touch is also an excellent choice for many women.
Colored felt balls, exquisite mini beads, huge wooden rings and beads, copper wire rings wrapped with metals, etc.. All these unique jewelry pieces add an artistic flavor to the overall ensemble and bring out the image of an intellectual woman.
This chic blend of romantic boho style and unique handmade jewelry has become a face that embodies bold femininity and strength. Combination of multiple colors and new silhouettes is made to complement the wearer's personal style, offering a look that is timeless, classic, and suitable for women of all ages.
What do you think?
After reading these exquisite maximalist designs and jewellery, do you feel that you should let go of the pursuit of modernism and minimalism?
When life reaches its limitations, the fashion world has gone the other way, building a powerful maximalist fashion kingdom, creating luxurious visual feasts with luxurious, complex and sophisticated designs.