10 recommended pieces of turquoise jewelry: all affordable
What is turquoise?
Turquoise is one of the most ancient gemstones with a splendid history of thousands of years, well known for its unique turquoise blue color and is very popular among people of all ages.
The word turquoise is derived from French and means Turkish stone. But Turkey does not produce such a gemstone. It is said that the turquoise was originally produced by ancient Persian and was named after the Turkish transport to Europe.
Birthstone turquoise
"What is my birthstone" is a common internet search. The list of birthstones by month was officially composed by the Jewelers of America in 1912.
If you are born in December or you are a Sagittarius, you're in luck: you might be drawn to this beautiful stone, as it is one of the December birthstones, the others being tanzanite and zircon. Turquoise comes with the promise of good luck, protection and gives the wearer the ability to predict danger ahead.
History and popularity of turquoise jewelry
During the first dynasty of ancient Egypt before 5500 AD, the Egyptian king sent a labor force of two or three thousand people who were well-organized and guarded by the army to find and mine turquoise.
Archaeologists discovered the Egyptian tombs and found that the Egyptian king had worn turquoise beads as early as 5500 BC.
Turquoise is one of the most ancient gemstones.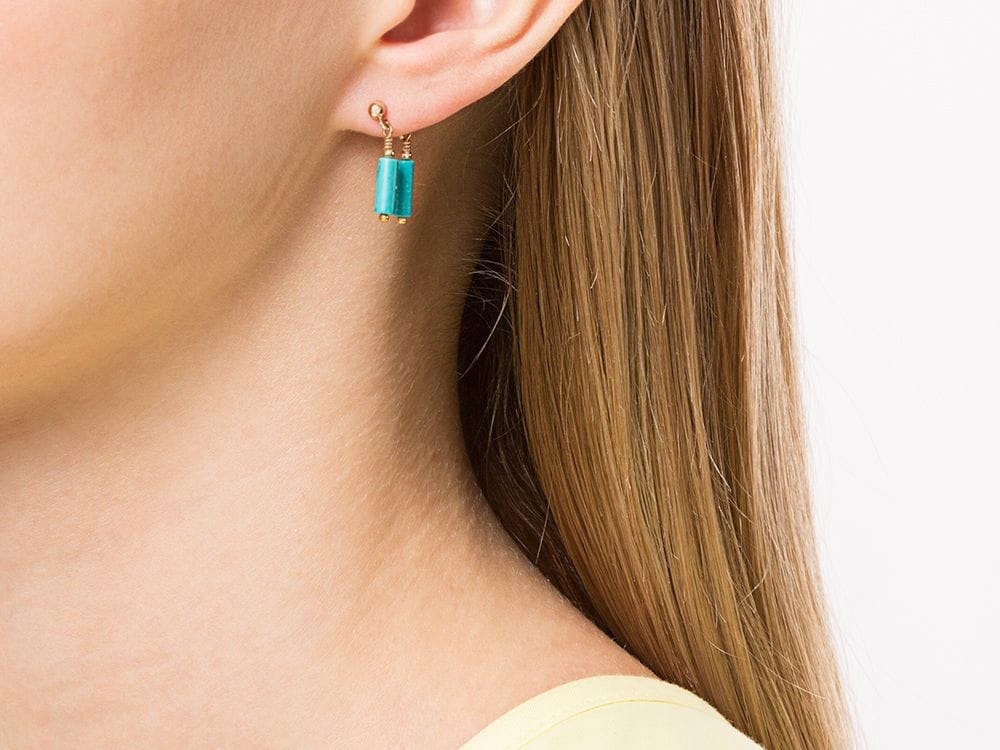 Petite Grand Little Bohemia stud earrings $71, SHOP NOW.
Turquoise is very popular among people of all ages.
The unique color of turquoise, like the blue sky and the blue sea, makes it regarded as a sacred or protective gem. It is also used by people of all ethnic groups in the world as a holy crystal.
Such a gemstone is not only the darling of the cultural and geographic world, but also a precious material used by major jewellery brands in the world, including Tiffany, Bulgari, Van Cleef & Arpels, Piaget and Cartier.
A variety of turquoise jewelry on the market are now gaining popularity.
Turquoise properties
Turquoise is classified as a semi-precious stone in the modern gemstone identification classification. It is a water and copper aluminophosphate mineral and belongs to phosphate minerals.
The hardness of turquoise is between 5 and 6 (only moderate), the density is between 2.6 and 2.9, and the refractive index is 1.62, which belongs to the triclinic system.
The turquoise blue: Such a unique and pretty color
Gorjana Turquoise Necklace $70, SHOP NOW.
Natural turquoise mainly has a sky- blue color, so typical that it becomes a standard color – turquoise blue. Apart from sky blue, we see also green, yellow and gray.
The color of turquoise is mainly caused by the elements contained within. Iron causes the gem to appear green, copper causes it to appear blue, and the quantity of water content will also affect the hue. Generally speaking the color is relatively uniform in turquoise.
Types of turquoise
Turquoise varies in color depending on the elements it contains. It appears blue when copper is present in the oxide and green when iron is present.
Generally speaking, turquoise is mostly sky blue, light blue, greenish blue, green, and pale white with green. High quality turquoise has an uniform color, a soft luster and no brown iron lines.
Blue turquoise
Monica Vinader blue turquoise pendant charm $85, SHOP NOW.
Blue and green are the most common colors of turquoise, with blue being the most typical. In general blue turquoise is more valuable than green ones.
Green turquoise
Green turquoise bracelet $25, SHOP NOW.
The green color of turquoise is due to the presence of iron, which is the color-causing substance, and the color also varies depending on the amount of iron. Generally speaking, the green turquoise is less expensive than the blue ones, but it has its own charm.
Turquoise vs white buffalo turquoise
Gorjana white buffalo turquoise (howlite) ring for calming $68, SHOP NOW.
White buffalo turquoise is not turquoise. Instead, the howlite stone is sometimes sold under the trade names of "white turquoise" or "white buffalo turquoise," or the derived name "white buffalo stone" and is used to produce jewelry similar to how turquoise is used.
Due to its porous texture and gray and black veins similar to those of turquoise, howlite can be easily dyed to imitate other stones, especially green turquoise and lapis lazuli. This dyed howlite is sometimes sold as turquoise.
Even if it's not dyed, howlite is often sold as while turquoise or white buffalo turquoise even though the stones aren't related to each other.
Turquoise vs (natural) white turquoise
In the meanwhile, natural white turquoise stone does exist. It is a variety of turquoise which are white instead of the typical blue or green color, and is also marketed as "white buffalo turquoise".
Unfortunately, natural white turquoise is extremely rare and soft (with a Mohs hardness of 1), which has resulted in howlite being more popular for use in jewelry than the real white turquoise.
Places of origin
Though most often identified by their blue-green color, Turquoise stones can be found as extreme as yellowish green. Used to decorate the domes of mosques in Iran, Iraq, Egypt, Central Asia and Russia, clergy believed this stone represented the origins of heaven and gifts God sent to earth.
Mined as far away as China and Kazakhstan and as near as Chile, Mexico, California, Arkansas, Texas, Nevada and Arizona–New Mexico was the leading Turquoise-producing state in the 1920s, replaced by Nevada in the 1980s and Arizona most recently.
Meaning of turquoise
Turquoise comes with the promise of good luck, protection and gives the wearer the ability to predict danger ahead.
In the eyes of the Indians, turquoise with its unique turquoise blue color, is regarded as the spirit of the blue sky and sea, symbolizing luck and good fortune.
It is now internationally known as the "December birthstone", signifying success and victory. It is the "stone of success" and the "stone of luck". For those who are born in December, wearing turquoise ensures a lifetime of peace and good luck.
Sages also insist that turquoise can protect one from falls, which is why horseback riders attached Turquoise to bridles thousands of years ago to safeguard the rider and the horse. Some still do.
The Aztec people believed the god Quetzalcoatl infused this stone with magical properties. Navaho used it to summon rain and Apache shamans were declared illegitimate if they didn't possess Turquoise.
Turquoise jewelry literally suits everyone
Natural blue turquoise is the most expensive and is used in both affordable and luxury jewelry.
In our knowledge, we have not found anyone who is not suitable for turquoise. In fact, natural turquoise has a place in almost all of the religions we know, including some unorthodox ones such as witchcraft that many people don't agree with.
Turquoise is one of the most popular gems because of its beautiful color and magnificent patterns.
10 pieces of hand picked turquoise jewelry
Turquoise bracelet
Gorjana elastic turquoise bracelet $48, SHOP NOW.
Turquoise is considered a stone of healing. It has a powerfully encouraging energy prompting your toward self-forgiveness and self-acceptance. This elastic bracelet made up of colorful gems and hammered golden beads, which brings in confidence and luck.
Looking for something else? Here are two other alternatives that strike the perfect balance between quality and price.
Adjustable Gold Chain Bracelet in Turquoise Crystal $78, SHOP NOW.
Turquoise earrings
Gold Turquoise Earrings $48, SHOP NOW.
All about high shine that can be dressed up or down, this pair of gold turquoise earrings is defined by its baguette crystals that nod to the Art Deco era. They are very delicate and easy to wear.
The following options are bolder with a wavy finish and are the perfect statement earrings especially for summer time.
Sterling Silver Stud Earrings in Turquoise $68, SHOP NOW.
Turquoise necklace
Turquoise Inlay Pendant Necklace $50, SHOP NOW.
This delicate crescent tusk pendant evokes an effortless bohemian vibe and can be adjusted to wear as a necklace or a choker. It shines in every occasion- Styling to dress elegantly, for fun or just an everyday outfit, this piece will make you stand out.
Station necklaces and layered necklaces add more variety into turquoise jewelry. Combine with gold they are versatile enough that it can dress any outfit up or down with ease.
Wear them on their own for an understated, elegant look or pair them with other favorites to achieve the on-trend layered look.
Birthstone Turquoise Necklace $95, SHOP NOW.
Turquoise healing properties
Soothing emotions is one of the main benefits of turquoise. With its lustrous color, elegant appearance, and cool feel, turquoise is able to relieve tension and anxiety to a certain extent when worn as jewelry or placed in the home. Turquoise can also improve the quality of sleep for people who suffer from insomnia.
Turquoise is able to bring courage and confidence and regulate our emotions, thus helping us maintain a healthy and positive state of mind. This stone also helps us to get along with others and therefore improves interpersonal communication. Generally speaking, wearing turquoise jewelry helps to shape a cheerful and open personality.
In addition, turquoise promotes metabolism. Turquoise is a naturally occurring mineral that contains a large amount of minerals and trace elements, which would enter our body through the surface pores of the skin, thus nourishing our body and promoting metabolism.
In addition, turquoise has a metabolism boosting effect. Turquoise is a naturally occurring mineral which contains a large amount of minerals and trace elements. And these minerals and trace elements can enter the body through the pores on the surface of the skin, which can nourish the body and promote the metabolism of the body.
Disclaimer: We do not guarantee or validate any of the claims related to the metaphysical and alternative healing powers of this or any other gemstone. This information should in no way be used as a substitute for medical advice.
Where to buy turquoise jewelry?
If you want to buy a turquoise stone and turquoise jewelry ranging from $0.5-$200, you can check Etsy. You can buy a raw turquoise stone, turquoise beads or turquoise jewelry, like a turquoise ring, a turquoise necklace and a turquoise bracelet that are affordable and of high quality and have them delivered to your house fast.
Alternatively, if you want to buy high end turquoise jewelry ranging from $50-$1000, you can check Kendra Scott. Their products are of high quality and are crafted in Austin, Texas. You can also have all the products delivered to your home.
Cleansing and purification
The standard way to cleanse and purify turquoise jewelry is to use kosher salt, since it does not contain common additives such as iodine.
How do we do it? If you use large grains of kosher salt, then simply put the salt on a plate or dish and then bury the stone within the salt for about 24 hours. Reminder, it can be longer than 24 hours, but not shorter. This is very effective and can last up to 3 months with a single purification, also called 100-day purification.
In addition, we can use moonlight to purify and charge turquoise. It is very easy. All that we need to do is place the stone on a terrace or by a window and expose it to moonlight for one night.
Caring for turquoise jewelry
Most turquoise has pores and will absorb rubbing oil, lip balm and perfume, etc. Although in our traditional craft, a layer of paraffin wax is applied to the surface to increase its color and to protect the stone, you should still pay attention to sweat, cosmetics and oils.
Avoid contact with tea, soapy water, oil, rust and alcohol too to prevent discoloration of the stone by penetration into the pores.
Due to the same reason, we should also avoid using heavy liquid to measure the density when trying to identifying the quality of a turquoise stone, because tribromethane and diiodomethane will discolor the turquoise.
Do not put turquoise into the ultrasonic cleaning machine, since the turquoise with holes will absorb the solution.
Turquoise is not very hard and should be kept separately from other hard stones.
Turquoise does not like high temperatures and should not be exposed to direct fire or direct sunlight to avoid fading, cracking or drying. Prolonged exposure to sunlight will cause cracks and fading due to water loss, and baking at too high a temperature will make the turquoise fragile and brittle.
Be careful when you purchase silver jewelry with turquoise stones. For example, Indian handmade jewelry is beautifully crafted. However, the high thermal conductivity of silver makes it difficult to control the temperature during repair, and the turquoise stones set in it can shatter due to the high temperature.
To wrap up
In conclusion, the turquoise stone has been appreciated since ancient times and remain a beautiful stone today. If you are lucky enough to get your hands on one of these beautiful stones, you will absolutely not regret it.
We hope this article has given you the insight you need. Feel to share your thoughts below or check other articles on gemstones that we have published.
Read More
Blue lace agate meaning, properties, benefits and uses
What is moonstone? Properties, meaning, healing properties, benefits and jewelry