December birthstone: Turquoise, Tanzanite and Zircon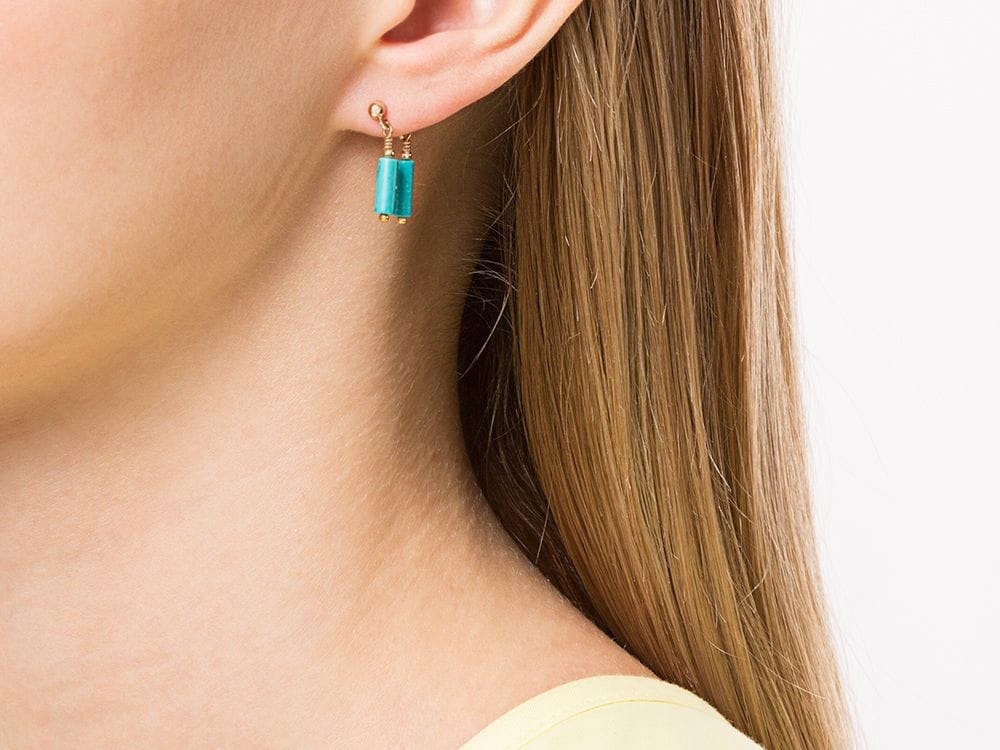 There is not just one December birthstone for but three of them: Turquoise, Tanzanite and Zircon. Each of them is gorgeous, symbolic and in some cases, lucky. Read about all three before you shop to pick the right one!
Turquoise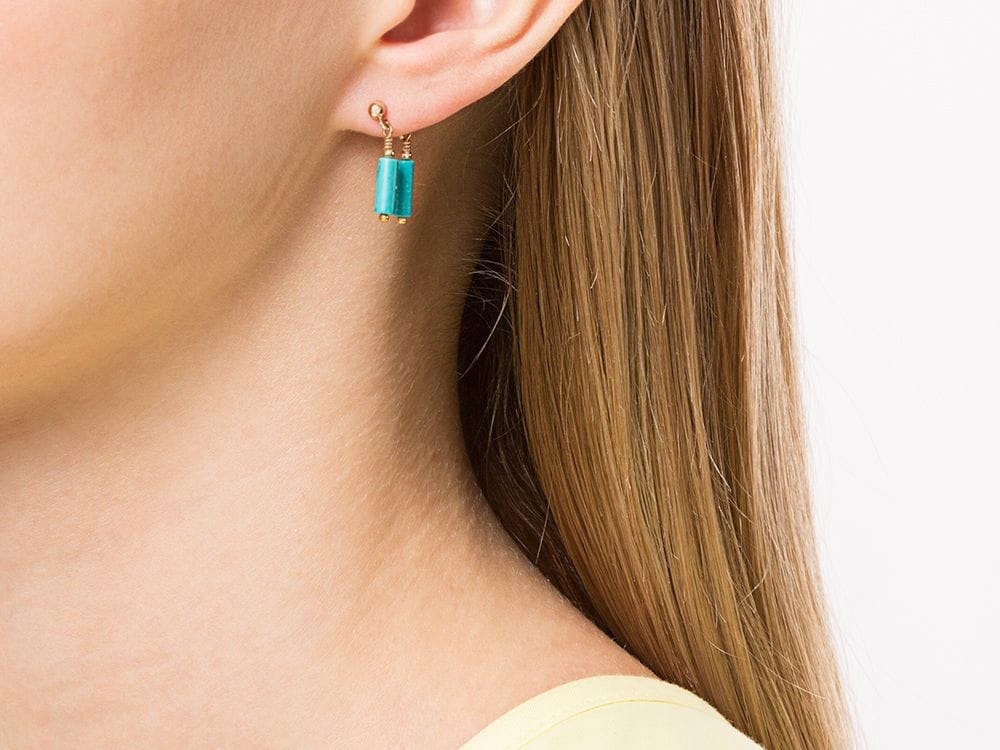 Petite Grand Little Bohemia stud earrings $71, check it on Farfetch.
Fun facts about turquoise
Native Americans are only the most recent societies to be fascinated by Turquoise, a mineral composed of copper and aluminum. Once considered a holy stone capable of bringing good fortunes to anyone wearing it, Turquoise gems were so pricy.
Egyptians used them to embellish their tombs as long ago as 3000 BC. Persians wore turquoise necklaces to protect themselves from unnatural deaths, but that protection went only so far: If the Turquoise changed color, the wearer was warned, "Fear the approach of doom"!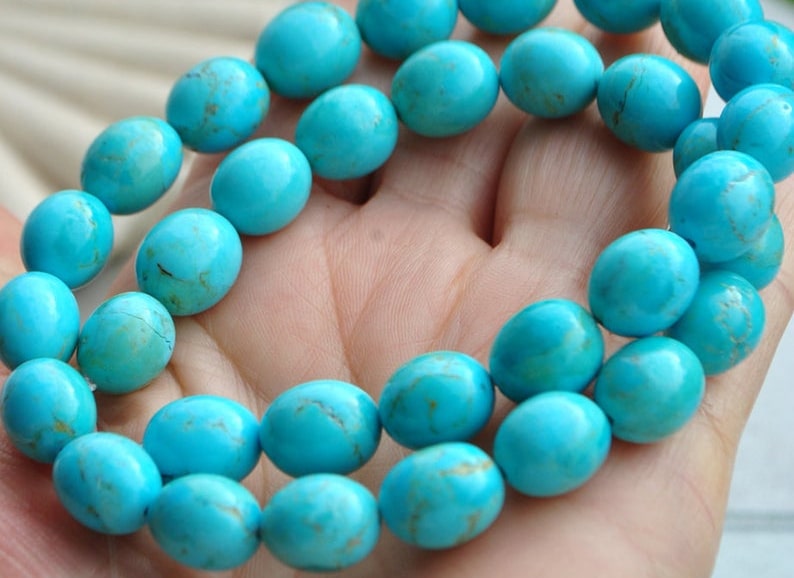 Blue turquoise from the Kingman mine in Arizona $12, SHOP NOW.
Places of origin
Though most often identified by their blue-green color, Turquoise stones can be found as extreme as yellowish green. Used to decorate the domes of mosques in Iran, Iraq, Egypt, Central Asia and Russia, clergy believed this stone represented the origins of heaven and gifts God sent to earth.
Mined as far away as China and Kazakhstan and as near as Chile, Mexico, California, Arkansas, Texas, Nevada and Arizona–New Mexico was the leading Turquoise-producing state in the 1920s, replaced by Nevada in the 1980s and Arizona most recently.
Nialaya Jewelry diamond chain necklace $149, check it on Farfetch.
Don't be fooled by imitators
Turquoise tends to have more "imitators" than other December gems. Synthetics produced in Russia and China in the 1970s, followed by those manufactured in the U.S. in the 1980s, launched a trend that introduced ceramic Turquoise synthetics and imitations.
Naturally-mined Turquoise stones are often dyed to enhance colors, a task made easier by the fact that Turquoise measures between 5 and 6 on the Mohs Hardness Scale.
A proliferation of imitations and synthetics has impacted the turquoise market, so be sure stones you choose for your December birthday recipient are tested and declared authentic.
Anni Lu 18K gold-plated Emmanuelle turquoise beaded bracelet $73, SHOP NOW.
Symbolism and turquoise meanings
Turquoise comes with the promise of good luck, protection and gives the wearer the ability to predict danger ahead.
Sages insist that Turquoise can protect one from falls, which is why horseback riders attached Turquoise to bridles thousands of years ago to safeguard the rider and the horse. Some still do.
The Aztec people believed the god Quetzalcoatl infused this stone with magical properties. Navaho used it to summon rain and Apache shamans were declared illegitimate if they didn't possess Turquoise.
Turquoise jewelry and more
Gorjana Power Gemstone Elastic Bracelet for Healing $50, SHOP NOW.
Turquoise is considered a stone of healing, with a powerfully encouraging energy prompting your toward self-forgiveness and self-acceptance. This elastic bracelet made up of colorful gems and hammered golden beads, which brings in confidence and luck.
Care and cleaning
Exposure to body oil, perspiration, heat, cosmetics and prolonged sunlight will all impact the look, texture and value of your stone, which is why immediate attention to cleaning Turquoise exposed to any of these is essential.
A mild soap solution is all that's needed to remove soil followed by a gentle buffing with a soft, damp cloth.
Be especially careful cleaning these stones if you have found antique Turquoise pieces that can be traced back to New Mexico's Chaco Canyon where it was first mined by Ancestral Puebloans (Anasazi).
Tanzanite

Tiffany Ring in platinum with a cushion-cut tanzanite and a double row of round brilliant diamonds £8,775, shop on Tiffany & Co.
The rarest birthstone
Unlike gemstones mined throughout the globe, Tanzanite comes from a single source that is located in Tanzania, Africa and in close proximity to Mount Kilimanjaro.
Even Tiffany refers to Tanzanite gems as "the most beautiful blue stone discovered in 2000 years," which is why they so often end up in museums or being owned by avid collectors and investors.
Due to the comparative rarity of these stones and the fact that they're relatively new to the market, Tanzanite may be harder to find than other December birthstones.
These gems only hit commercial markets in the 1960s, but from the moment they debuted, they have been superstars.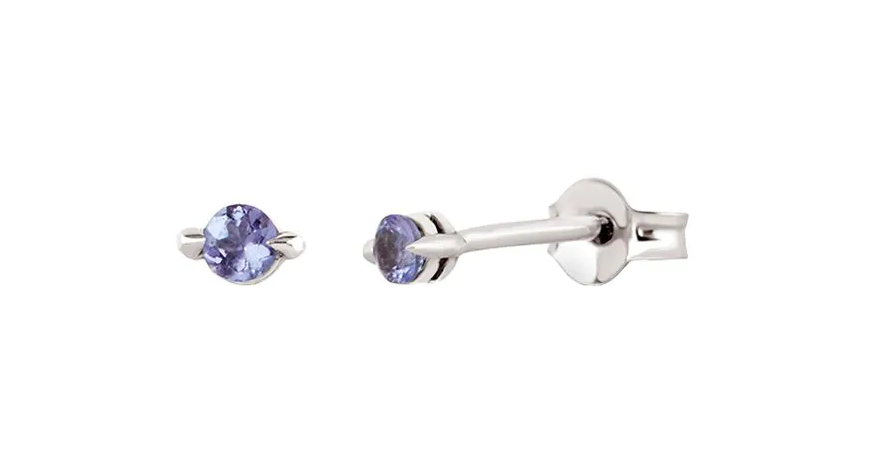 Dinny Hall 14kt white gold tanzanite Shuga stud earrings $200, SHOP NOW.
The ultimate blue jewel
Although this December birthstone debuted more recently than Zircons and Turquoise, Tanzanite quickly became the "second most popular blue gem stone after Sapphires," according to gemologists tracking sales.
The reasons are obvious: Tanzanite is not just rarer but chameleon-like: Depending upon the way you hold the stone, shades of blue change dramatically–a phenomenon known as "pleochroic." Study this jewel from one angle and it's true blue; look at another facet and you could see purple.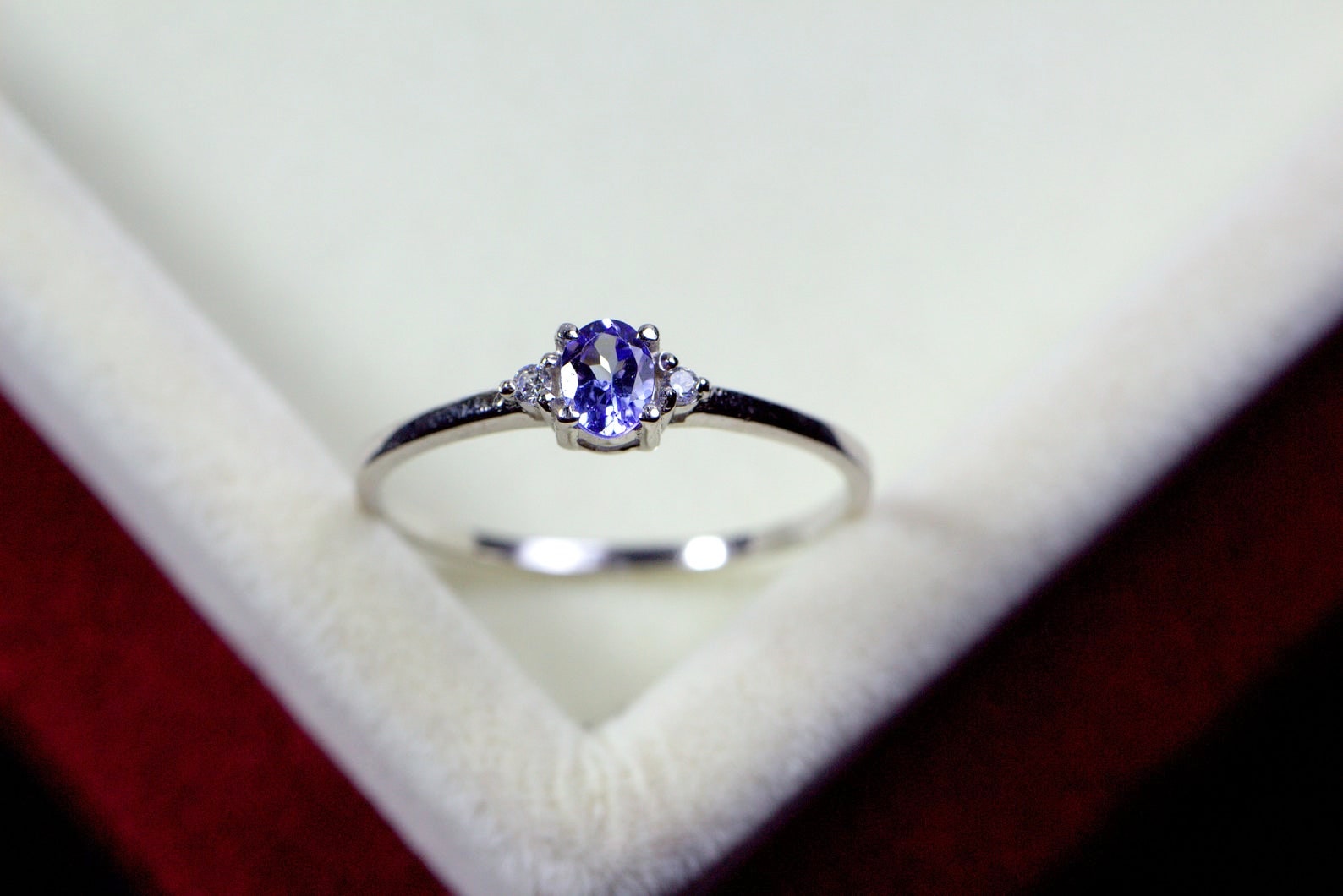 Blue dainty tanzanite ring $31, check this item on Etsy.
Why size matters
Tanzanite gems measuring over 5 carats in weight are quite rare and if by chance you encounter one that is over 50 carats, your find will be among the rarest ever.
Tanzanite stones with the highest degree of top-grade blue coloring are the most valuable and tend to be reserved for custom-made high jewelry pieces.
The bigger the size, the richer the color. Gemologists say that this phenomenon has something to do with the way larger surfaces disburse light.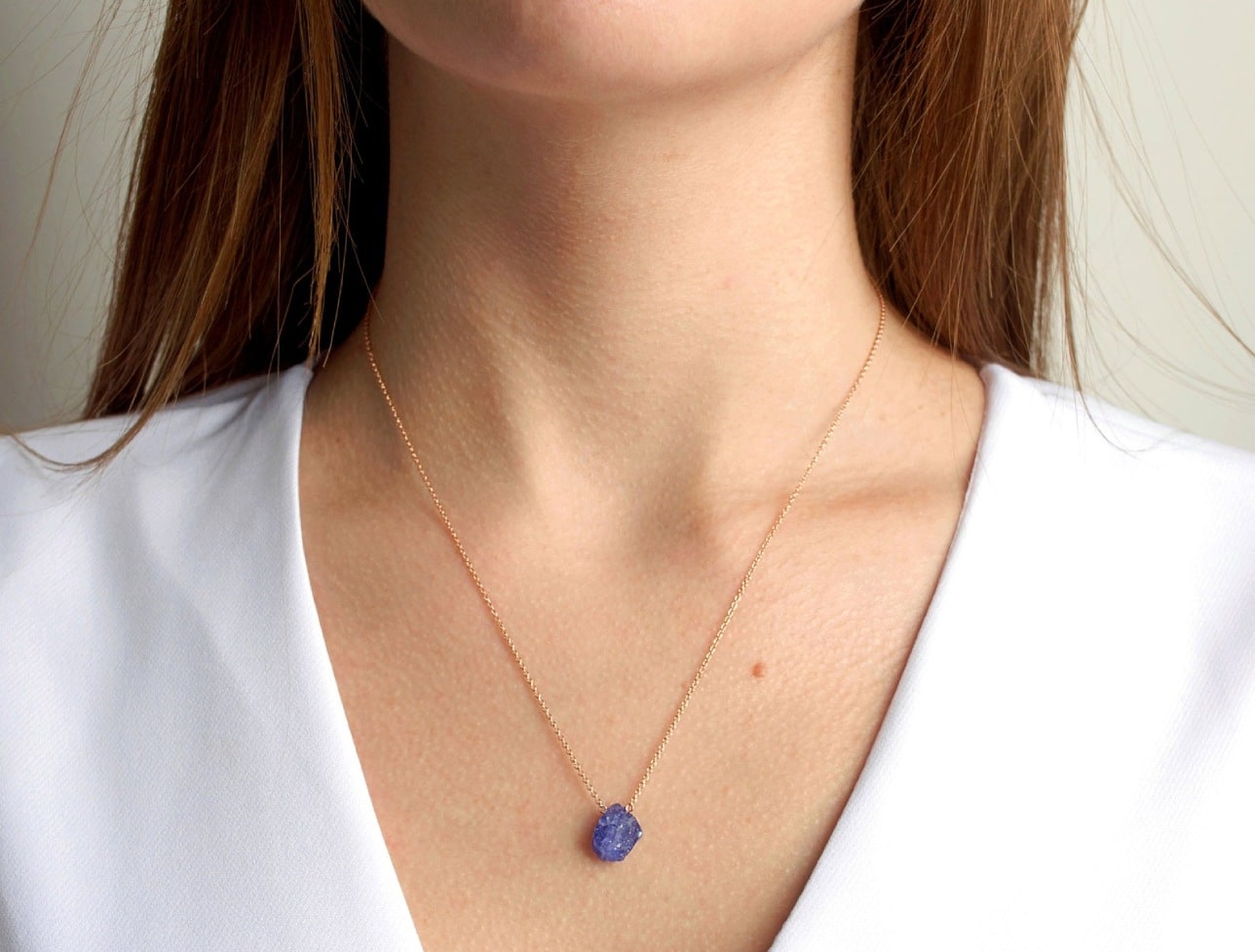 Raw Tanzanite December Birthstone necklace $45, SHOP NOW.
Defining features of tanzanite
Tanzanite registers 6.5 on the Mohs Hardness Scale and it is considered a durable gemstone yet still it can be scratched. It's an ideal choice for earrings and necklaces over rings and bracelets because the stones are less likely to come into contact with abrasive surfaces that can damage this stone.
Jewelry designers get around this by putting Tanzanite into settings "protected" by precious metals or surrounded by harder gems. If your December birthday recipient engages often in activities that impact hands, a ring might not be the best idea.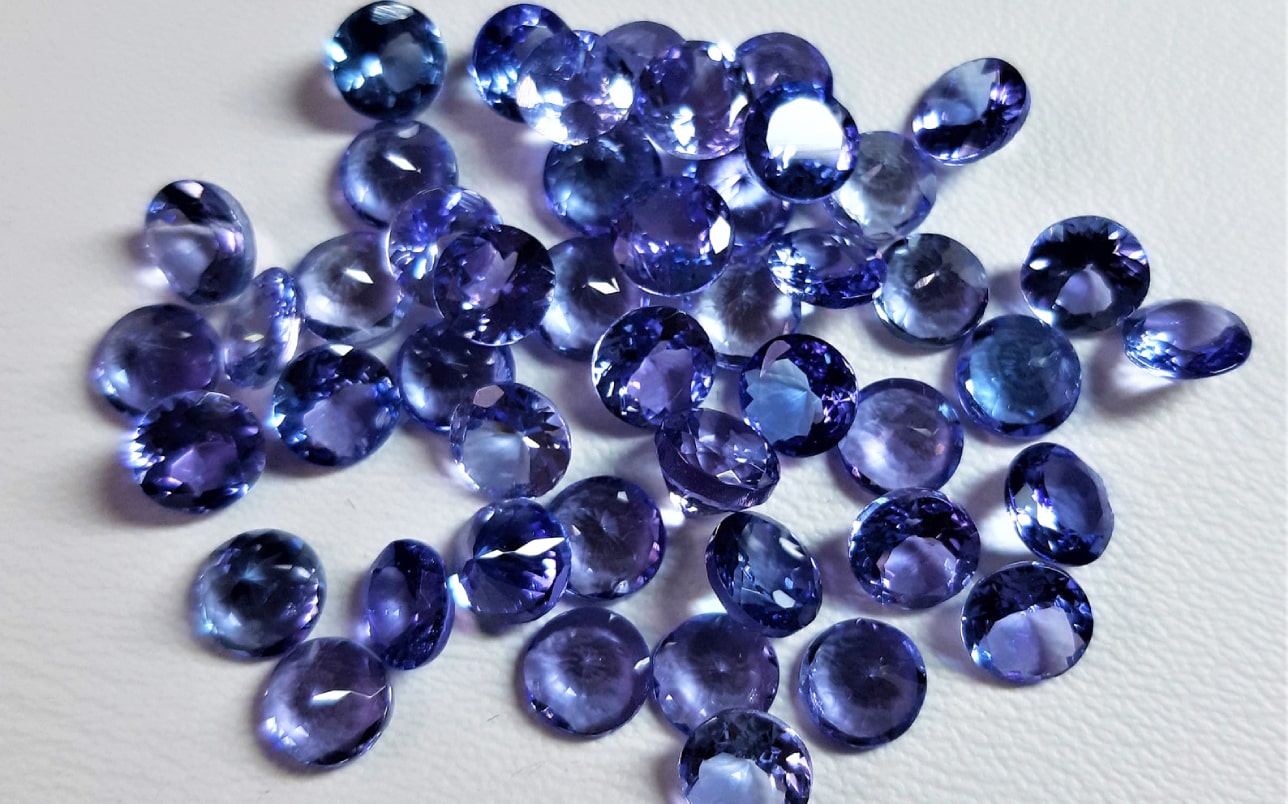 1.25MM to 6MM Natural Tanzanite Round Cut Loose Gemstone $1, check this item on Etsy.
Care and costs
Like Zircons, this December birthstone is best maintained by warm water and a gentle soap bath while avoiding steam and ultrasonic cleaning devices. Scouring this stone causes damage; chemicals and acid-based cleaners are to be avoided.
In terms of price stability, Tanzanite has seen extreme ups and downs caused by geographic turmoil, illegal mining and smuggling. While size and grade impact prices, expect to spend between $300 to $750 per carat, but symbolic benefits may justify the price.
Tanzanite is said to transform, energize and heal wearers and help them develop psychic powers. Mention that in the card accompanying your gift!
Zircon December birthstone
Blue Zircon Stud Earrings in 14k Gold $65, SHOP NOW.
So many colors!
While perusing birthstones by month, you'll have an easy time setting your sights on a stone that comes in so many colors, you may feel unlimited choices as you browse Zircons. These gems come in white, blue, red, green, yellow, orange, brown, pink, purple, gray or colorless.
Whatever the color, you will give a gem that's an impressive 7.5 on the Mohs Hardness Scale (10 is hardest). Colorless zircons can look just like diamonds, but the price tag will probably give the secret away.
Blue Zircon Oval Shape 10.5 x 8.5 x 4.5 mm $116, SHOP NOW.
History of zircons
Zircons have been mined for thousands of years—which explains why some of them still contain traces of radioactivity. No worries. Those radioactive traces are minimal: your arm won't light up if you're fortunate enough to wear or give a bracelet filled with these beautiful jewels.
Giving off brilliant luster, the Zircon makes a great first impression, but depending upon the color you choose, this stone may darken over time if it's exposed to too much prolonged sunlight.
AAA Quality Natural Blue Zircon Rough $45, SHOP NOW.
Exotic pedigrees
Zircons are mined in Cambodia, Burma (Myanmar), Sri Lanka (Ceylon), Australia, Tanzania, Mozambique, Madagascar, Nigeria, Pakistan, Ukraine, Afghanistan, Canada and even the U.S.
Gemologists usually assign these jewels to varieties that include Jacinth (Yellow, orange, brown, red), Jargon (pale grey, pale yellow or colorless) and Starlight (the classic colorless stone), among others.
If you see a stone marked "Matura Diamond," take a pass. This diamond look-alike is often passed off as a Zircon but it's not.
A "stone of virtue."
You couldn't give more meanings to a birthstone for December. The name Zircon originated in Persia where Zircons served all sorts of purposes. Known as the "stone of virtue," they are still used in the practice of Far Eastern religions and believers say that the right Zircon can impact specific chakras.
Said to help wearers hone their intuition, Zircons are reputed to keep the wearer spiritually grounded and help them hone their psychic communication skills, too.
Blue Zircon December Birthstone Bracelet $34, SHOP NOW.
Care and cost of zircons
Clean Zircons in warm, soapy water rather than ultrasonic or steam cleaners to maintain their sparkles.
While your budget and checkbook will be the determinant of how much you spend on the Zircon you select, it's important to know that color, size, country of origin and sourcing all impact the prices of these gems.
That stated, you can find inexpensive stones running as little as $35 per carat up to $400 per carat for the highest quality stones in hard-to-find colors. This price range is great news for budget-constrained gift givers.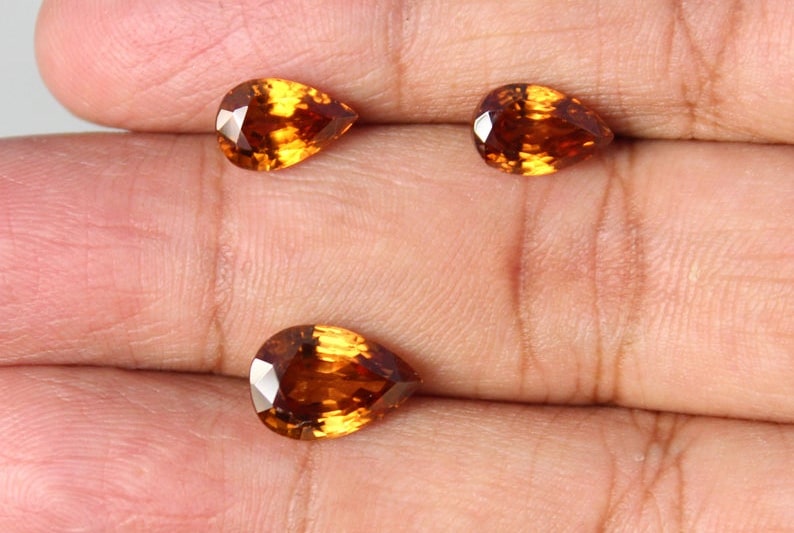 Natural Zircon pear cut $58, SHOP NOW.
Which December birthstone calls to you?
Now that you have been introduced to the three dynamic stones that represent the month of December, which strikes your fancy?
Since beauty is in the eye of the beholder, the choice you make could be based on appearance alone, but why not add meanings to the December gem(s) you choose so to make the gift unforgettable?
Whether you select a ring, a necklace, a bracelet, a pair of earrings or an accessory, you can be sure that it will be precious and appreciated by the recipient the moment they open the gift box to find the birthstone-embellished present you chose.
At that moment, you're going to be overjoyed that you did your research and chose a gift that lights up the face of your December birthday celebrant almost as beautifully as the birthstone you picked.
Conclusion on December birthstones
Thank you for reading this article on December birthstones, I hope it helps you get the information needed. Feel to share your thoughts below or check other articles on birthstones that we have published.