What is tanzanite?
The tanzanite stone is referred by Tiffany & Co. as "the most beautiful blue stone discovered in 2000 years." It is rare, relatively new to the market, and highly valued even by avid collectors and investors.
A rare blue stone new to the market
Unlike other gemstones mined throughout the globe, Tanzanite comes from a single source that is located in Tanzania, Africa and in close proximity to Mount Kilimanjaro.
Even Tiffany refers to Tanzanite gems as "the most beautiful blue stone discovered in 2000 years," which is why they so often end up in museums or being owned by avid collectors and investors.
Ross Simons Tanzanite Stud Earrings in Sterling Silver $69 SHOP NOW.
Due to the comparative rarity of these stones and the fact that they're relatively new to the market, Tanzanite may be harder to find than other December birthstones.
These stones only hit commercial markets in the 1960s, but from the moment they debuted, they have been superstars.
Although this stone debuted more recently than Zircons and Turquoise, Tanzanite quickly became the "second most popular blue gem stone after Sapphires," according to gemologists tracking sales.
Tanzanite properties
Tanzanite, also known as saualpite or zoisite, is a silicate mineral. It is commonly blue or purple in color, but we can also find them in gray, brown, yellow, green or light pink. It is a transparent stone with a glassy luster.
Early used as a decorative material, the tanzanite stone has gained prominence in the gemstone industry since the discovery of transparent blue-violet tanzanite in Tanzania in 1967.
It was named Tanzanite in honor of the then newly formed Republic of Tanzania.
The pleochroic effect
Tanzanite is not just rarer but chameleon-like: Depending upon the way you hold the stone, shades of blue change dramatically–a phenomenon known as "pleochroic." Study this jewel from one angle and it's true blue; look at another facet and you could see purple.
Tanzanite hardness
Annoushka 18kt white gold diamond tanzanite earrings $15,225 SHOP NOW.
Tanzanite registers 6.5 on the Mohs Hardness Scale and it is considered a durable stone yet still it can be scratched. It's an ideal choice for earrings and necklaces over rings and bracelets because the stones are less likely to come into contact with abrasive surfaces that can damage this stone.
Jewelry designers get around this by putting Tanzanite into settings "protected" by precious metals or surrounded by harder gems. If your tanzanite jewelry recipient engages often in activities that impact hands, a ring might not be the best idea.
Why size matters?
Ross Simons tanzanite ring in 18kt gold over sterling $83 SHOP NOW.
Tanzanite gems measuring over 5 carats in weight are quite rare and if by chance you encounter one that is over 50 carats, your find will be among the rarest ever.
Tanzanite stones with the highest degree of top-grade blue coloring are the most valuable and tend to be reserved for custom-made high jewelry pieces.
The bigger the size, the richer the color. Gemologists say that this phenomenon has something to do with the way larger surfaces disburse light.
Tanzanite color: the tanzanite blue
What color is tanzanite? It is commonly blue or purple in color, but we can also find them in brown, gray, yellow, green or light pink.
Heat treatment
Most untreated tanzanite is a brownish-yellow color and it changes to blue-violet after heat treatment. Heat treatment of tanzanite is very commonly accepted in the market and does not affect its price.
Blue tanzanite
Selim Mouzannar 18kt rose gold, diamond and tanzanite ring $26,050 SHOP NOW.
Tanzanite is very attractive now in the market mostly because of its intense, violet-tinged blue color, which is the color of the highest quality sapphires and is therefore loved by all. And the main aspects that make up the color evaluation of tanzanite are its hue and intensity.
Purple tanzanite
Jemma Sands Sugar Gems tanzanite necklace $386 SHOP NOW.
Purple or violet tanzanite is another popular variety of this stone, even though it is not as valuable as blue tanzanite. Some tanzanite stones have a more intense purple color, depending on how the cutter chose to orient the stone.
Pink tanzanite
Untreated Pink Tanzanite From Tanzania 3.5 Carats $41 SHOP NOW.
Pink tanzanite (Pink Zoisite) is the rarest variety and is very popular among collectors. The stone shows different shades of reddish pink, from intense red like a flame of passion to the light pink like a romantic dream.
Green tanzanite
Natural 5.24 ct unheated green tanzanite and diamond 18K white gold ring $7,299 SHOP NOW.
Green tanzanite is not as valuable or as desirable as blue or purple tanzanite. But still, it is very rare. With great cuttings techniques and designs, it makes a unique piece of jewelry.
Where is tanzanite found?
Unlike stones mined throughout the globe, Tanzanite comes from a single source that is located in Tanzania, Africa and in close proximity to Mount Kilimanjaro.
Tanzanite value
Annoushka 18kt gold diamond tanzanite engagement ring $3,845 SHOP NOW.
Recent geological studies indicate that Tanzanite mines in Tanzania will be depleted by 2030 and that the chances of finding Tanzanite elsewhere in the world are "less than one in a million". Therefore, it is almost certain that the value of tanzanite will rise.
The largest market of Tanzanite is North America, with 80% of the blue tanzanite produced each year going to the United States, upwards of $300 million, followed by Europe.
This rare stone is blue in color and not as hard as sapphires or rubies. And because of this, it is also less expensive and easier to work with. It can be cut into various shapes and is larger in size, making it a particularly attractive piece of jewelry and a favorite of fashionistas.
Especially when people learned that the "Star of the Ocean" worn by Winslet in "Titanic" was a blue Tanzanite stone, the market price went up like crazy. In fact, the real "Star of the Ocean" is a diamond called "Hope" , the chemical composition of which is completely different.
Tanzanite price
What is tanzanite worth? In terms of price stability, Tanzanite has seen extreme ups and downs caused by geographic turmoil, illegal mining and smuggling. While size and grade impact prices, expect to spend between $300 to $750 per carat, but symbolic benefits may justify the price.
Tanzanite birthstone
Ross Simons Five-Stone Tanzanite Ring in Sterling Silver $89 SHOP NOW.
"What is my birthstone" is a common internet search. The list of birthstones by month was officially composed by the Jewelers of America in 1912. If you are born on December, you're in luck: you might be drawn to this beautiful stone, as it is one of the December birthstones, the others being turquoise and zircon.
Tanzanite meaning
Tanzanite is a symbol of aura, healing, love and eternity. The ancient Celtic people believed that tanzanite had powerful psychic abilities that could transcend one's consciousness and soul into eternity.
Tanzanite healing properties: what is tanzanite used for?
Ross Simons Tanzanite Earrings in Sterling Silver $79 SHOP NOW.
Tanzanite spiritual healing properties
Wearing tanzanite can help enhance the wearer's spirituality, improve his or her insight and intuition by gaining a deeper understanding of self. It also helps the wearer to deal with repressed emotions, and lead the wearer to use positive energy in the right places.
Tanzanite emotional/ mental healing properties
In this era of rapid growth, many of us are living under a lot of stress. The tanzanite stone can relieve the mental tension and stress caused by the fast-paced life of our modern society. In addition, it brings inspirations and new ideas.
Where to buy tanzanite jewelry?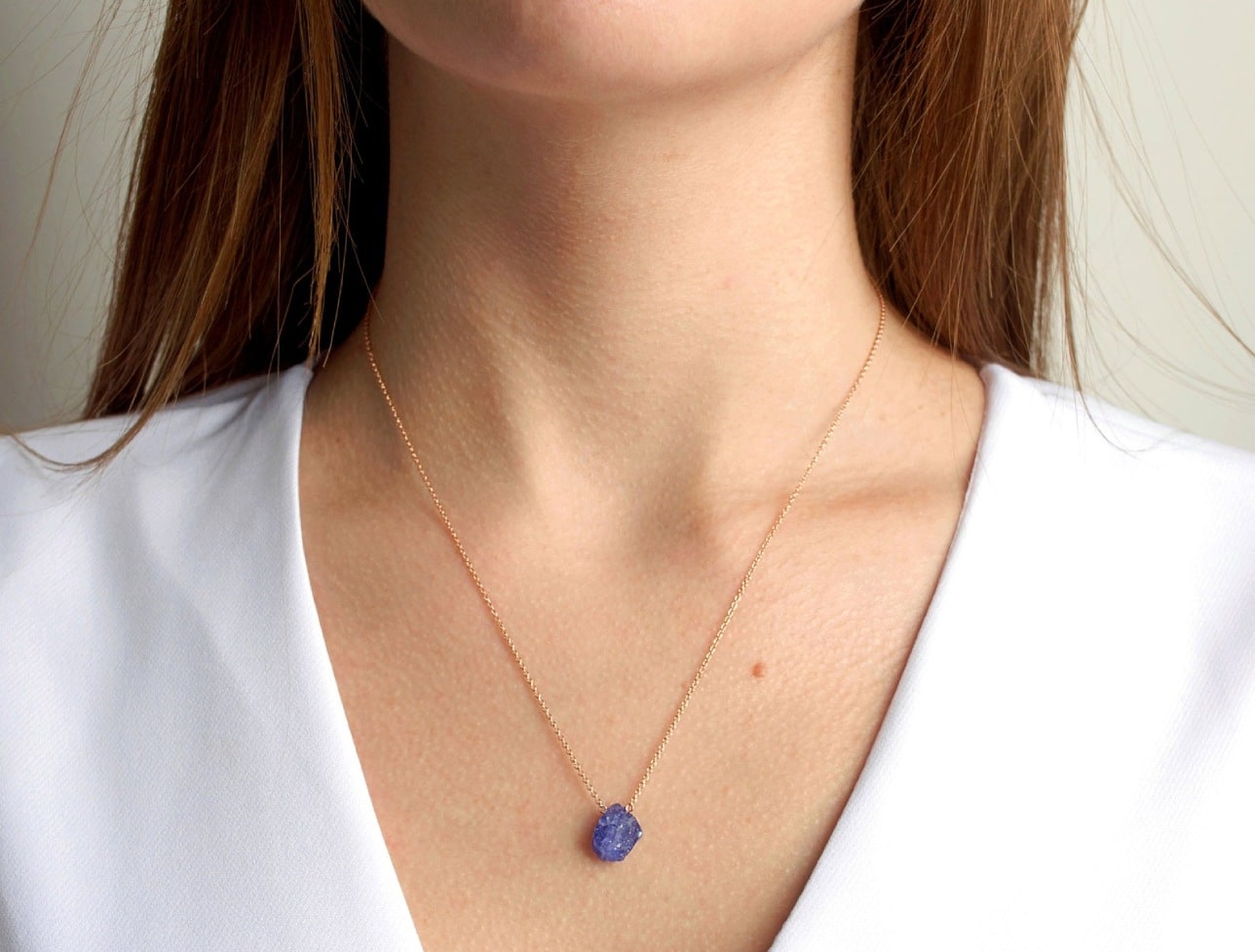 Raw Tanzanite necklace $45, SHOP NOW.
If you want to buy tanzanite jewelry ranging from $20-$500, you can check Etsy. You can buy raw tanzanite stones and tanzanite jewelry like tanzanite rings (tanzanite engagement rings), a tanzanite necklace, a smoky quartz bracelet or tanzanite earrings that are affordable and of high quality and have them delivered to your house fast.
Alternatively, if you want to buy high end tanzanite jewelry ranging from $100-$2000, you can check Farfetch. They have luxury brands like Gucci, Prada, Boucheron, Cartier, Chopard, David Morris, De Beers and designer brands that are unique and less well-known. You can also have all the products delivered to your home.
Tanzanite vs sapphire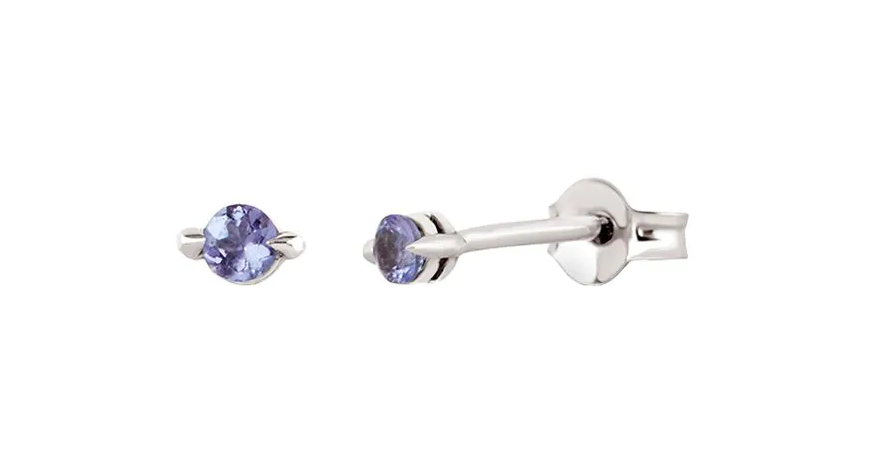 Dinny Hall 14kt white gold tanzanite stud earrings $200 SHOP NOW.
1. Tanzanite is softer than sapphire
First of all, the biggest disadvantage of tanzanite is that it is not as hard as sapphires. Sapphire is second only to diamond in hardness, at 9. Tanzanite is about the same hardness as emerald, at 6.5 to 7. When you compare sapphire and tanzanite together, you will find that sapphire appears hard, while tanzanite appears softer.
2. Tanzanite is much less expensive
Secondly, compared to sapphires, tanzanite is much less expensive. This is mostly because tanzanite is not as hard as sapphire, which makes it a semi-precious stone; which sapphire is one of the 4 precious gemstones, together with diamond, ruby and emerald.
3. Tanzanite has a more brilliant blue color than sapphires
Thirdly, tanzanite has a more brilliant blue color than sapphires. Most sapphires are grayish or blackish in color, while tanzanite has purer and brighter blue color.
4. tanzanite is larger than sapphire
Fourth, tanzanite is larger. Compared to sapphires, tanzanite is generally bigger in size. In fact, 1-2 carat sapphires are already relatively rare, whil tanzanite can usually go above 10 carats.
5. tanzanite is more pure and clean
Fourth, tanzanite is more pure and clean, while sapphires have more inclusions.
How to cleanse tanzanite?
1. Cleanse with clear water
The tanzanite stone and its energy come from nature, so we can also use natural methods to help cleanse and purify the stone. Place the stone in a flowing stream or river and rinse it with water for 20 minutes before drying it. If this is not possible, buy a bottle of mineral water and soak the crystal in it for 24 hours. This helps to remove the negative energy.
2. Cleanse with the smudging method
To be honest, this is one of the most commonly used method. All that we need to do is simply put the crystal in the room and let the smoke of essential oil, sage or sandalwood ( please remember to use natural essential oil without added chemicals) to work the magic.
3. Cleanse with the soil
This is the most powerful method. If the crystal has been owned by a sick person, then we strongly recommend using this method. After all, the crystal comes from the earth. Letting it go back to the original place for purification is the best.
Remember though to find an unpolluted place to do so. In addition, it is recommended that to bury for more than a month.
4. Cleanse and recharge with a crystal cluster
Cleansing and purifying with a crystal cluster is the easiest and most convenient method. The crystal cluster itself has a very strong energy. It can not only purify the stone, but also charge it. All we need to do is to place the stone on the crystal cluster overnight.
5. Recharge with the moonlight
On the night of the full moon, place the crystals on a windowsill facing the moon. You can also place them outside if it is safe to do so. If needed, cover them with a glass jar or bowl to provide extra protection. Moonlight will charge the crystals overnight.
Care for your tanzanite jewelry
Like Zircons, this stone is best maintained by warm water and a gentle soap bath while avoiding steam and ultrasonic cleaning devices. Scouring this stone causes damage; chemicals and acid-based cleaners are to be avoided.
Read More
A guide to topaz: blue topaz, mystic topaz, topaz color, meaning and uses
The jewel of the sea: the aquamarine stone and its color, meaning, healing properties