Pearl jewelry: For elegant and romantic women like you
June birthstone:
Health, peace, wealth and longevity
Pearls known as the "Queen of Jewels" are listed as a birthstone for June and a memorial gemstone for the thirteenth and thirtieth anniversary of marriage.
It symbolizes health, peace, wealth, and longevity. Pearl jewelry has been loved by people since ancient times and bring good wishes to people who are born in this month.
How are they produced exactly?
Pearls are the only organic gemstone that is bred by living organisms. They are mainly produced in mollusks such as seawater shellfish and freshwater mussels, which due to the stimulation of foreign substances create a mixture of calcium carbonate and hard proteins.
That is to say, the nacre or "mother-of-pearl" wraps the irritant like a protective shell, which later on turn into a pearl. As time goes on, the nacre becomes thicker and the pearl more valuable.
Categories of pearls
According to the genesis, pearls are divided into 2 types: natural and cultured. Nowadays the vast majority of pearls in the market are cultured ones.
Tory Burch Kira pearl drop earrings $157, check this item on Farfetch.
Natural pearls
Natural pearls are produced without human intervention, generally with a core that comes from the environment, such as gravel. Although pearls have been used as decorations for thousands of years, natural pearls are extremely rare and account for only a small percentage of the total number of pearls traded.
Cultured pearls
Pearls formed by manual intervention. To grow cultured pearls, the farmer implants individual mantle membranes (usually for freshwater aquaculture) or together with a mother-of-pearl bead (all marine cultures) into the mollusks.
As a consequence, the mollusks secrete a pearly nacre to wrap the irritant, which is consistent with the formation of natural pearls.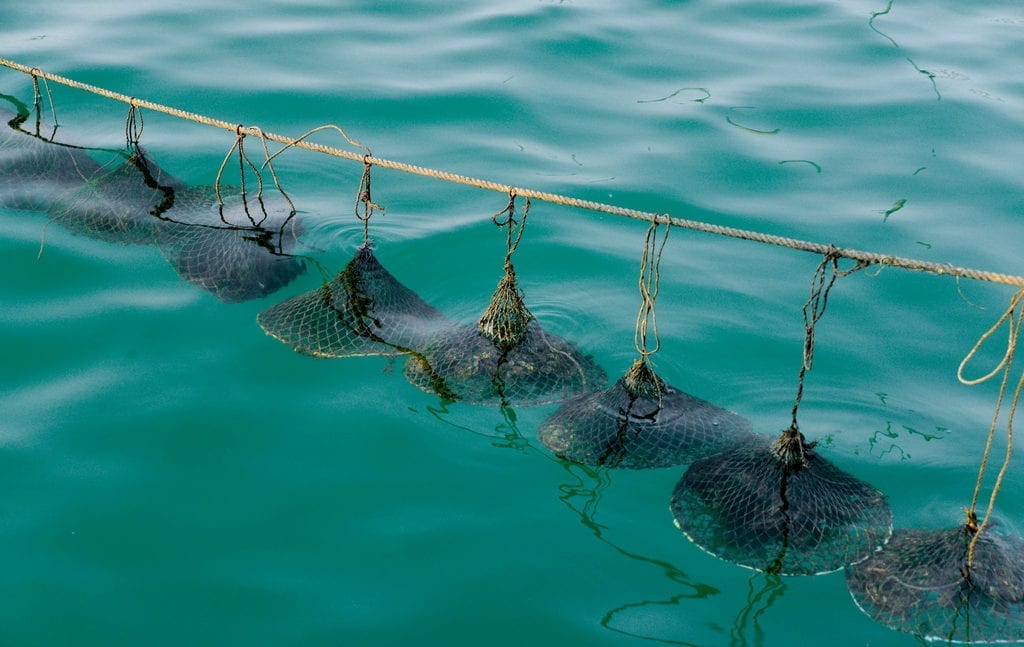 Cultured pearls can be classified into marine cultured pearls and freshwater cultured pearls, which mainly include Akoya, Tahiti, South Sea pearls and freshwater pearls.
1. Akoya pearls are medium sized and of high quality.
Stimulates used in the implantation process, i.e. the mother of pearl, are called Akoya in Japanese, which can be found in coastal areas in Japan and China.
Japan's Akoya pearls are mainly produced in the Seto Inland Sea including Mie, Hiroshi and Ehime counties. China's Akoya pearls are mainly produced in Guangxi and Guangdong.
Akoya pearls are generally more than 6mm in diameter, those over 8mm are more popular among high-end consumers.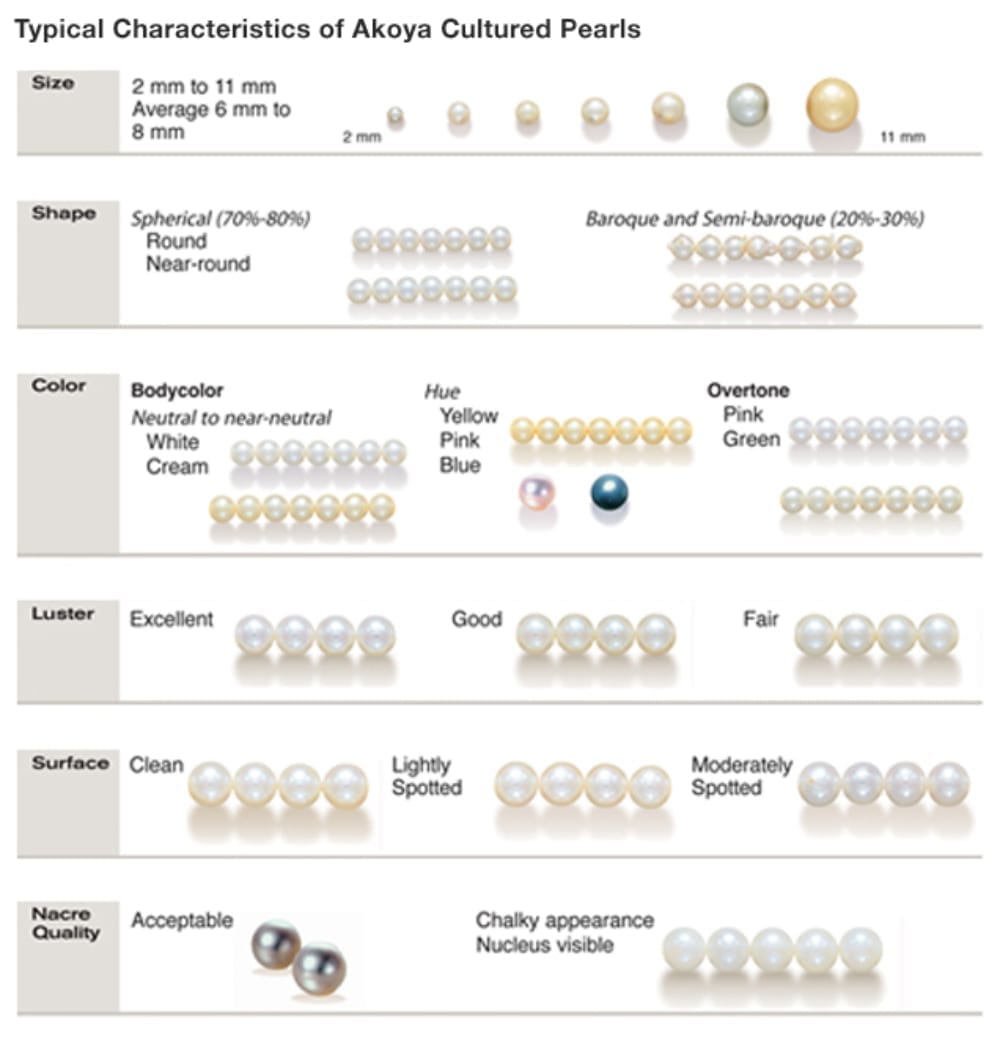 2. Tahitian pearls are known for their unique and almost luminous color.
Tahitian pearls are the product of seawater black scallops, which are found in French Polynesian islands. Main color of this pearl is very special, sometimes referred to as "eggplant" (dark purple), "pistachio" (yellowish green ) or "peacock" (dark green combined with blue).
The size of  Tahiti pearls is generally between 9 and 14 mm, the most common being between 9 and 11 mm.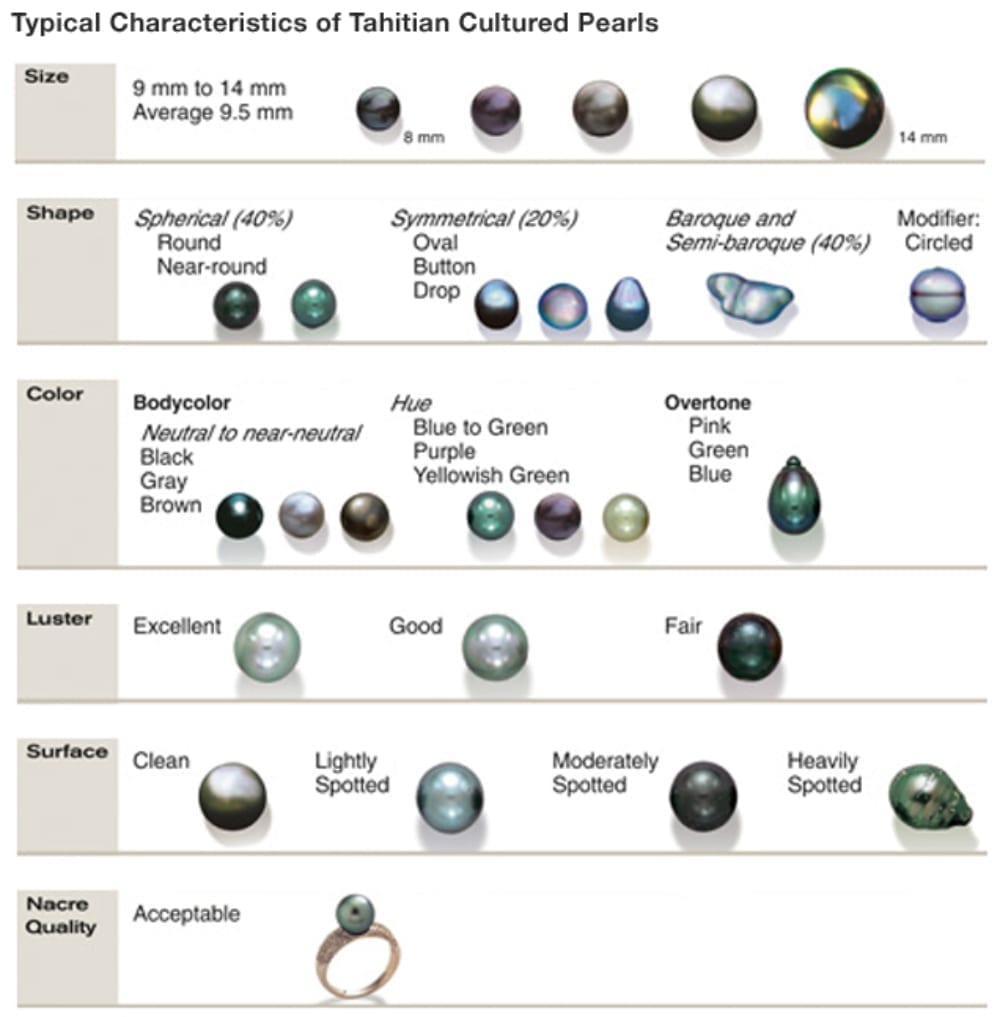 3. South Sea pearls are known for their big size
South Sea pearls refer to the big pearls produced in the Philippines, Indonesia, Thailand, Myanmar, Australia and other sea areas, with a size of 8 to 20 mm; the average diameter can reach 13 mm.
4. Freshwater pearls are the most traded in the market
They are usually cultivated in freshwater lakes and ponds, in a variety of sizes, shapes and colours. China and the United States are the main producing areas.
Colors 
As the most popular gemstone ever, pearls come in a variety of colors, among which we are most familiar with are white and cream (light tan). Black, gray, and silver are also quite common. As a matter of fact, we can find almost every color in pearls.
Petite Grand freshwater pearl cord necklace $102, check this item on Farfetch.
Pearl jewelry is for elegant and romantic women like you
Pearls are said to be a design highlight that never fades in the industry of jewelry. Whether they go as the main character or a supporting role, pearls can always achieve a fine tuning touch.
In addition to being used as a densely chained necklace or a pair of complicated metal earrings, or as an embellishment on the hair, pearls immediately bring out nobleness and elegance in a woman, making the wearer feel like a bride to be married.
Pearls of Love Freshwater Pearl Necklace by Dogeared
I have to admit that one of our editors bought this cute necklace right after the publication of this article and she is loving it! Such a dainty little beauty.
A single freshwater pearl on a gold filled chain: simple enough to wear everyday, yet precious enough for the dressiest of occasions.
Materials: 14k gold dipped sterling silver with freshwater pearl; 16″ fine chain.
There are few women's jewelry pieces more timeless than pearls, and these unique earrings and necklace are the perfect twist on a classic. Gold and pearl earrings are a jewelry must-have, perfect for anything from a day at the office to a night on the town.
Shine on in the fine craftsmanship and unmatched quality of these 14kt yellow gold and pearls and you will know why they are a forever favorite.
Pearl jewelry is perfect for the modern woman with a sophisticated sense of fashion. Whether you prefer modern or traditional jewelry, pearls help display a luxurious statement.
Care and cleaning of pearl jewelry
1. Avoid contact with perfume, oil, salt, alcohol, hair cream, vinegar, organic solvents and dirt in daily life. This is due to the fact that calcium carbonate which is a main component of pearls, has poor chemical stability and is soluble in acid and alkali.
2. Not suitable to wear pearl jewelry when our body is sweating.
3. When not in use, pearls are supposed to be cleaned with a soft, damp cotton cloth and put away . Do not use any cleaning agent; Do not use facial tissues either because the rough surface of the paper will damage the pearls.
4. Do not expose to the sun or bake it. If the pearl "enjoys" the sunlight for a long time, it will also get "tanned". Unfortunately for pearls, this tanned skin is not a beauty but a damage.
5. Keep the mothball away. 
6. Pearls also need fresh air. Even if we don't wear them often, we should take them out every a few months to let them breathe. Otherwise, a white pearl can easily turn yellow.
7. Use a 1%-1.5% hydrogen peroxide to bleach yellowish pearls after the long wearing. Be careful not to overdo it, otherwise the pearls will lose their luster.
Conclusion on pearl jewelry
Thank you for reading this article on pearl jewelry. If this article is helpful to you, comment below to let me know or check other articles on birthstones that we have published.
January birthstone: Garnet- chastity, sincerity, friendliness, authenticity
February birthstone: Amethyst– Honest, Peaceful
March birthstone: Aquamarine and Blood stone– Calm, Brave, Smart
April birthstone: Diamonds- Pure and Flawless
May birthstone: Emerald- Lucky and Happiness
June birthstone: Pearl, Moonstone, Alexandrite– Healthy, Longevity, Richness
July birthstone: Ruby– passion, love, dignity
August birthstone: Olivine- happy and happy couple
September birthstone: Sapphire- Loving, Honest, Virtuous
October birthstone: Opal, Tourmaline– Joy, Ease, Blessings
November birthstone: Citrine, Topaz- Friendship, Hope
December birthstone: Turquoise, Tanzanite, Zircon– victory, good luck, success
Image sources: Mikimoto, GIA, Dogeared, Alexandrite.net